Scooters have developed over the years and as such have become increasingly more child friendly and easy to use for kids of all ages. As parents look for ways that their children can enjoy the great outdoors in an engaging yet safe way, easy to use kids scooters have become popular alternatives to bicycles or rollerblades.
Keep reading to learn more about the latest easy to use kids scooters and the key features that consumers will be looking at when selecting a scooter for their loved ones.
Table of Contents
Global market value of kids scooters
Key features consumers want in a scooter for kids
Top 7 easy to use kids scooters for 2023
Conclusion
Global market value of kids scooters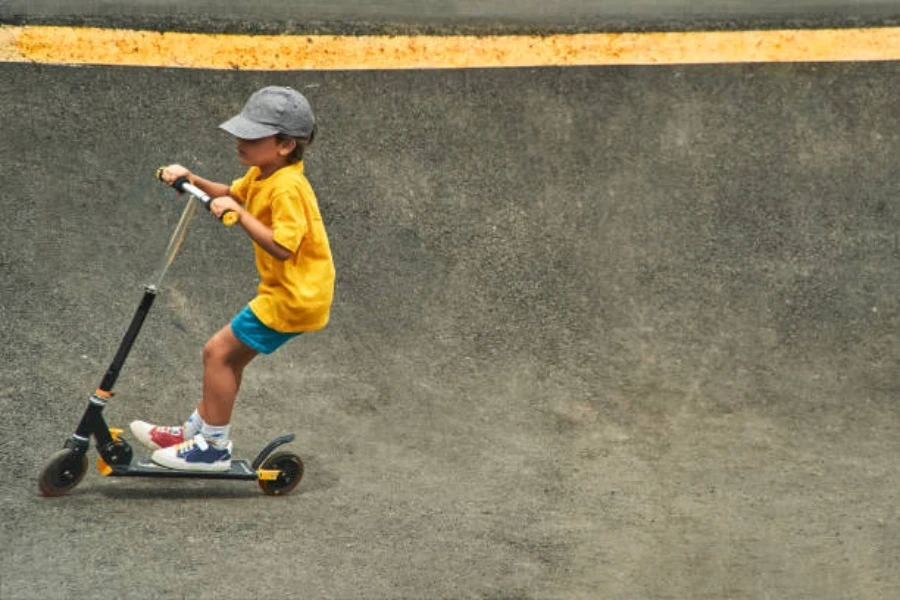 Children are spending more time indoors than ever before due to the abundance of electronic gaming systems, TV's, computers, and smart devices now available. As such there's a concern among many parents about the overall health and wellbeing of their children which has helped to create a higher demand for outdoor equipment, games, and gear. One of the biggest demands in recent years are easy to use scooters for kids.
Between 2022 and 2027 the global market value of kids scooters is expected to grow at a compound annual growth rate (CAGR) of at least 5.42%. That would increase the overall value by approximately USD 14.38 million.
Key features consumers want in a scooter for kids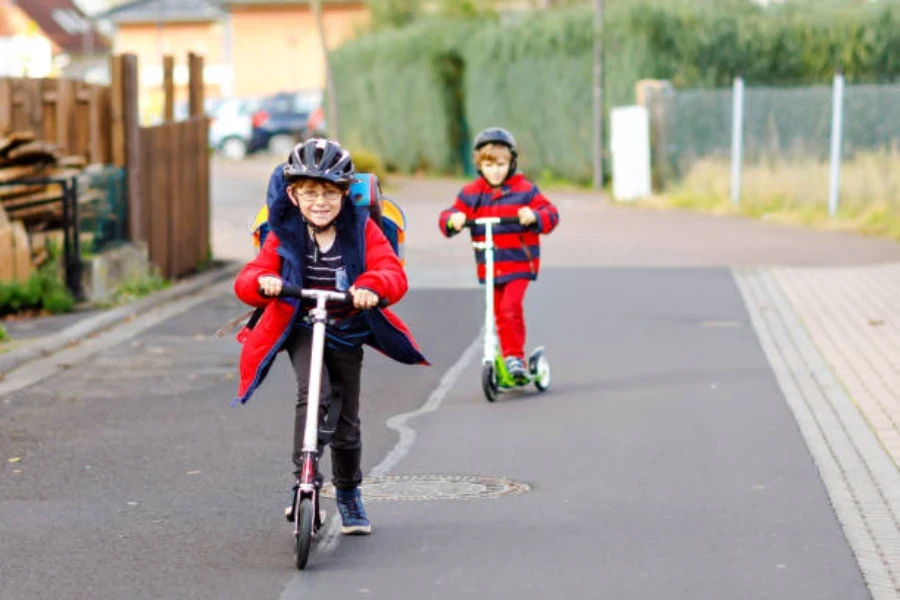 Although scooters are a relatively straightforward piece of equipment there are several features that consumers will look at while they're considering which type of easy to use scooter for kids to purchase.
Non-slip deck: For any type of scooter it's important that the deck has a non-slip traction added to it to reduce the chance of a child's feet from slipping and causing an injury.
Lightweight: Having a lightweight scooter makes it easier for kids to maneuver and carry when the scooter isn't in use.
Stability: Maintaining proper balance while riding a scooter is essential so consumers will be looking for a scooter that has a deck that's wide enough for a child to stand on.
Handlebars: A key feature that the top scooters will have is adjustable handlebars that are suitable for kids even as they grow. Padded handlebars or grips are also key for younger children.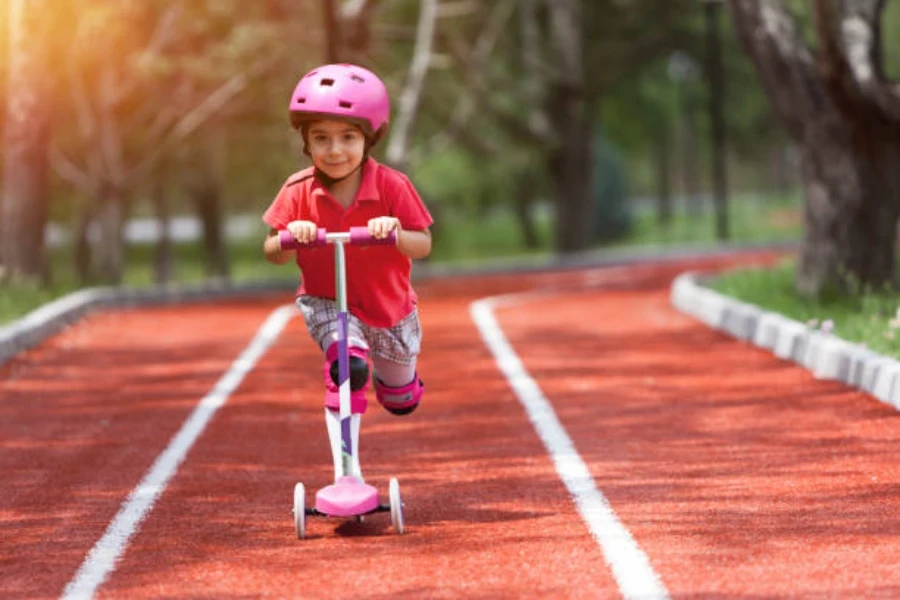 Easy to fold: Scooters are known for being compact so most consumers will want to purchase a scooter that has an easy folding mechanism built into it.
Wheels and brakes: Scooters tend to have wheels that are larger or thicker in size in order to absorb the impact while riding. Having the right brakes system is also crucial for the safety of the child riding the scooter.
Design: Whereas older riders want a more subdued looking scooter, younger kids tend to lean towards scooters that are bright and vibrantly designed.
Top 7 easy to use kids scooters for 2023
Whereas some scooters have features that may be harder for very young children to use, others are designed specifically with a younger age bracket in mind and are more eye-catching by design.
The popularity of each of the below scooters can be seen by analyzing the average monthly search volume through Google Ads. Coming out on top is "electric scooter" with 2 740 000 searches, followed by "off-road scooter" at 18100 searches, "foldable scooter" at 6600 searches, "LED scooter" at 1600 searches, "manual scooter" at 1300 searches, "3 wheel kick scooter" at 480 searches, and "animated scooter" at 140 searches. Keep reading to learn more about each type of easy to use kids scooters.
3 wheel kick scooter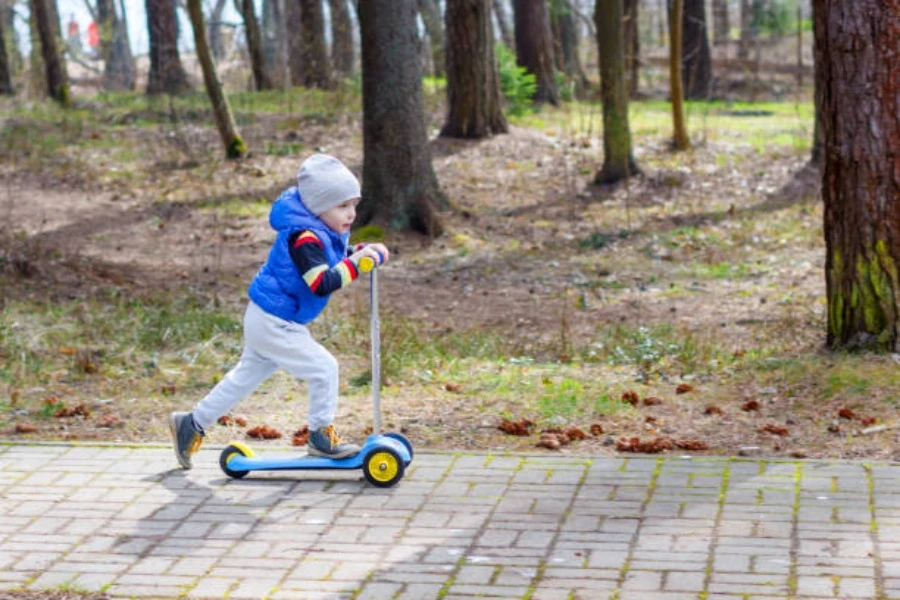 The popular 3 wheel kick scooter is designed with stability in mind. Whereas traditional scooters only have 2 wheels, the addition of a third wheel allows for extra balance which is essential when very young kids are beginning to learn how to ride a scooter for the first time. This scooter also features a wider deck than most so kids can easily stand on it without stumbling as well as what's referred to as a lean to steer mechanism.
To ensure ultimate comfort the 3 wheel kick scooter will feature adjustable handlebars, a low deck height so that the rider can mount and dismount easier, an easy to use footbrake on the rear wheel, a foldable design for easy transportation, and a lightweight construction.
Manual scooter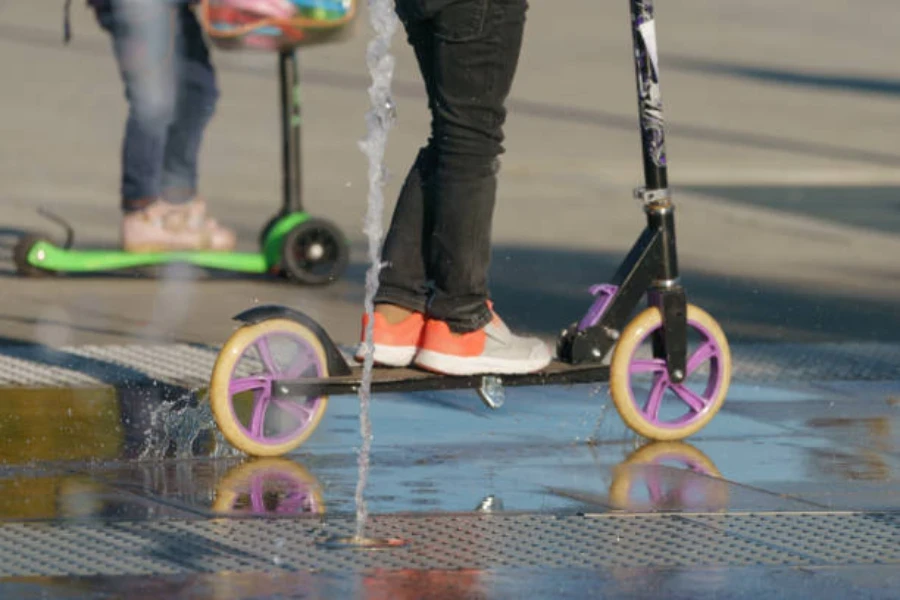 The manual scooter, or the 2 wheel kick scooter, is the classic scooter that most kids will use at least once in their lifetime. This is the next step up from using a 3 wheel kick scooter as it requires more balance to maneuver. Consumers will also notice that the deck is slightly narrower which enables the rider to have more control and better foot placement.
The adjustable handlebars on the 2 wheel kick scooter allows for extended use over time. The lean to steer mechanism isn't used in this scooter so the rider will need to learn to steer and control it themselves. The rear footbrake, smooth rolling wheels, folding mechanism, and lightweight design are also key features to consider in the 2 wheel kick scooter.
LED scooter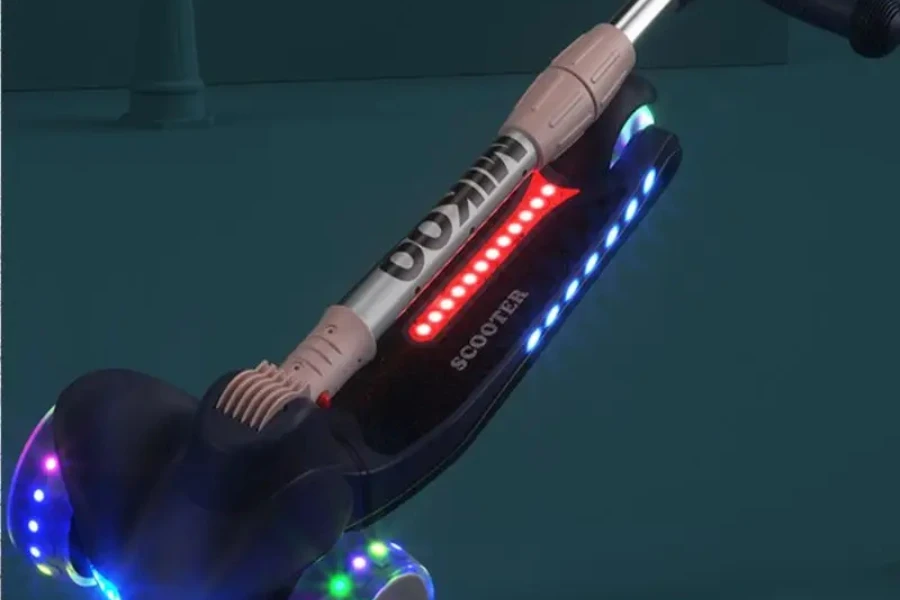 The LED scooter is a fun alternative to a regular scooter. The LED lights featured on this type of scooter can be found in places such as the wheels, the deck, and even the handlebars. Colors can only take a scooter so far, so for children who want to stand out the LED scooter is the way forward. The visually appealing lights often come in different color options and patterns that allow for customization.
Off-road scooter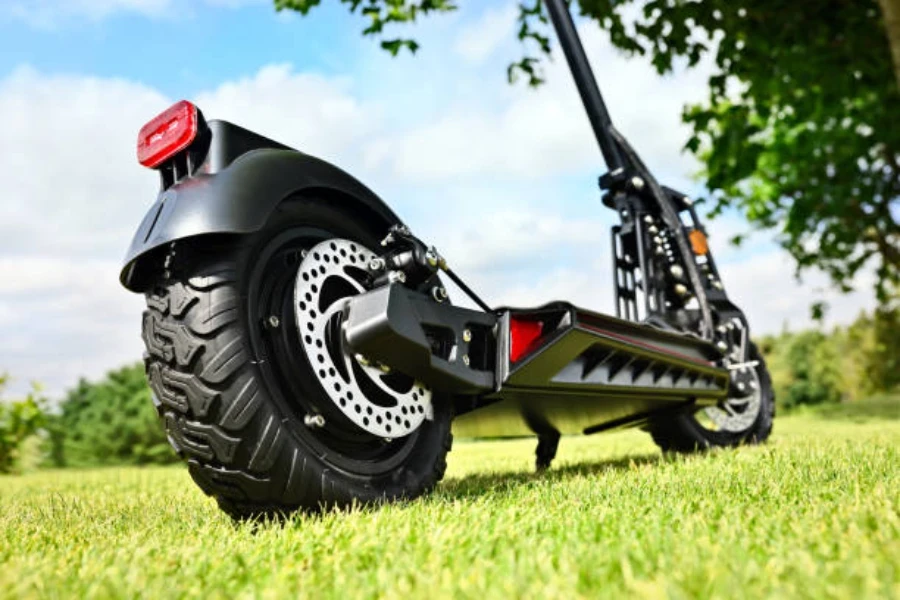 The off-road scooter isn't your typical type of scooter. Whereas regular scooters are lightweight these scooters are designed with durability in mind. The all-terrain wheels are larger and air-filled which allows the rider to navigate uneven surfaces, and they have better traction on them. To help with the impact some off-road scooters will have a front suspension system added to them as well as a more reliable braking system.
Foldable scooter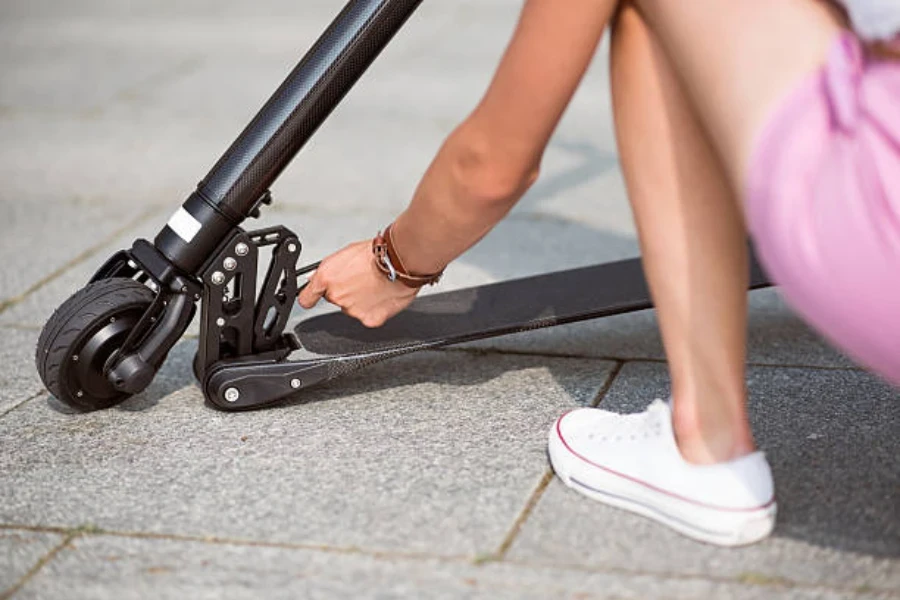 The foldable scooter is perfect for consumers who don't have a lot of storage space or who intend to take the scooter on the road with them. It also makes it easy for the child to carry their scooter around when they're done riding it as the mechanism is quick and easy to use for children of all ages.
Animated scooter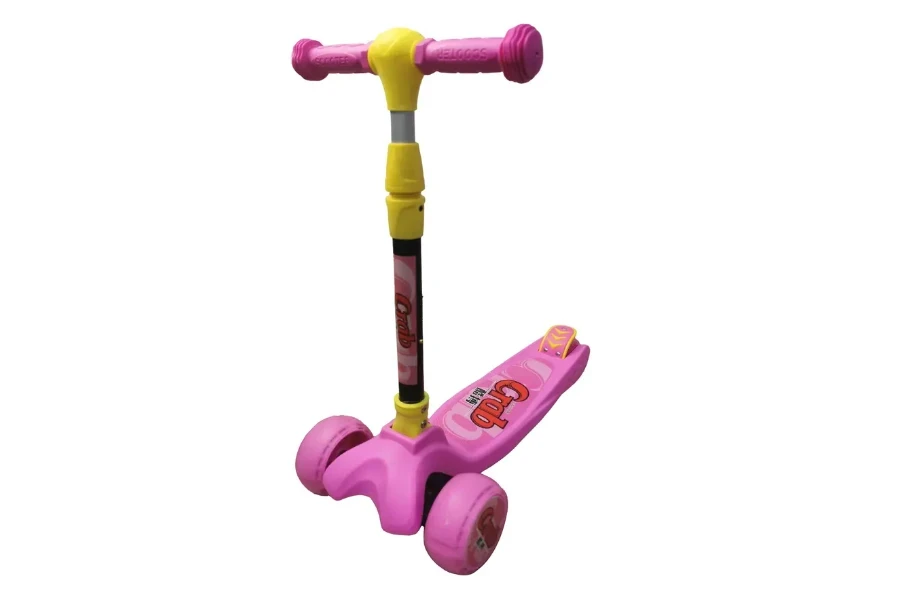 The main feature of the animated scooter is that it appeals to kids. These scooters can come in a variety of different styles but ultimately they'll be colorful and have the image of popular characters on them that kids will know. To catch the attention of children they're often vibrant and eye-catching but depending on the character the scooter is featuring darker colors can be used. 
Electric scooter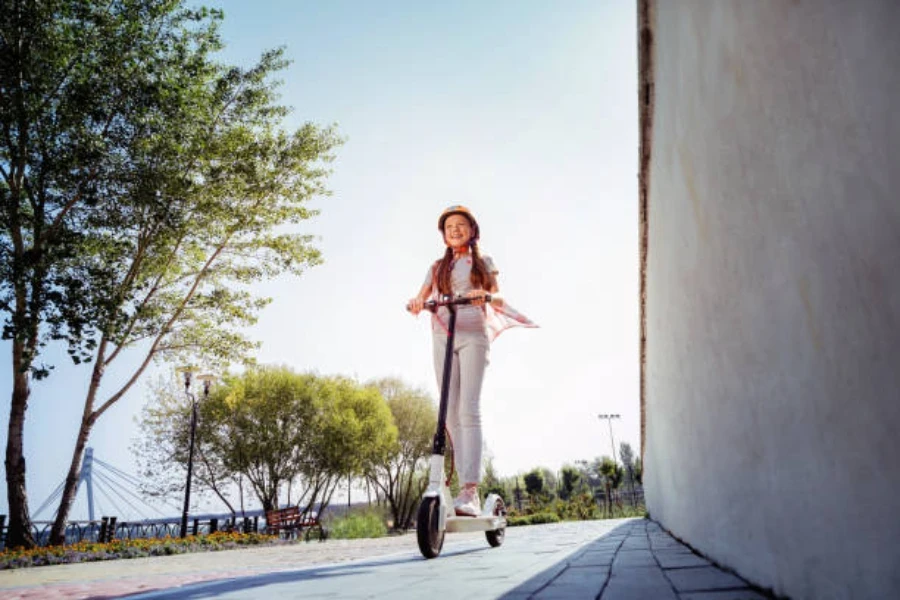 Battery powered scooters are popular with adults as well as kids and allow the rider to alternate between various speeds but require little to no physical effort. These speeds can be capped depending on the age of the child for safety reasons. 
The throttle control is controlled by a button or twist grip on the handlebars and like other scooters can be folded down when not in use and includes adjustable handlebars. Safety lights are a new addition to electric scooters which are beneficial in low light conditions to make the scooter more visible.
Conclusion
Scooters have been around for decades and their popularity isn't slowing any time soon. The benefits of using a scooter include improving balance, maintaining overall health, improving social interaction, promoting exploration among children, and reducing screen time. There are several features to consider before a consumer will purchase a scooter for their child which includes the deck, the weight, overall stability, adjustability of the handlebars, how easy it is to fold, the wheels and brakes, and its overall design and appeal.
Although electric scooters are becoming more popular among younger children, manual scooters are still very much a popular purchase among consumers. The 3 wheel kick scooter, the 2 wheel kick scooter, the LED scooter, the off-road scooter, the foldable scooter, and the character themed scooter are all popular easy to use kids scooters too. As consumers look for more eco-friendly modes of transportation the market is expecting the number of scooters being sold to continue to increase with modern features added to them to attract a younger crowd.
Was this article helpful?