Glam rock, a captivating and revolutionary movement that emerged in the 1970s, boasted a magnetic allure centered around its embrace of androgyny. At the time, the notion of men donning flamboyant and feminine attire proved a startling departure from the mainstream norms.
Yet, under the pioneering influence of musical icons like David Bowie and Freddie Mercury, the rock scene underwent a mesmerizing transformation, warmly embracing glam rock's flamboyant and audacious aesthetics. Although the era is long gone, it still influences modern fashion, blessing the catwalks and streets with various eye-catching ensembles.
This article will introduce five reemerging glam rock trends set to dominate the runways and the fashion market globally in 2023/24.
Table of Contents
How big is the glam rock fashion market?
Amazing glam rock trends to stock up on this season
Invest in these top trends
How big is the glam rock fashion market?
Glam rock is a popular niche amongst Gen Z and millennials globally. Although it peaked in the mid-1970s, its popularity declined in the later periods of the same year – partly due to the rising interest in punk rock.
However, glam rock never disappeared completely. In fact, it has witnessed many revivals and continues to influence pop culture. The market thrives on several major segments, including velvet, spandex, leather, silk, and decorated apparel.
While the spandex market will grow from US$ 7.74 billion to US$ 9.46 billion by 2030, the leather segment stood at US$ 242.85 billion in 2022. Silk (generating US$ 10.7 billion in 2022) and decorated apparel (projected to reach $68.17 billion by 2030) are also positive drivers for the glam rock fashion market.
Amazing glam rock trends to stock up on this season
Spandex jumpsuits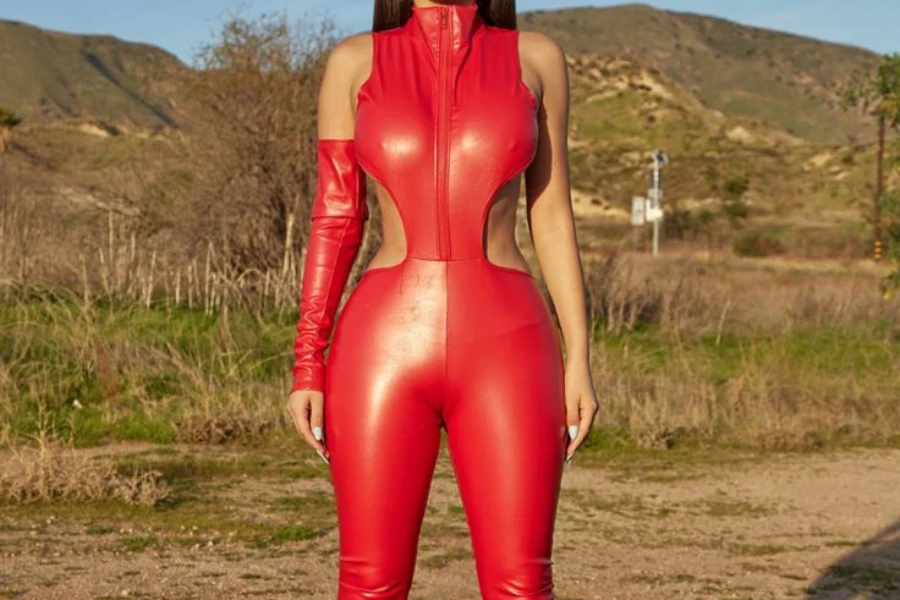 Spandex jumpsuits became an iconic apparel trend during the glam rock era, which reached its peak popularity in the 1970s. They featured a stretchy synthetic fabric that quickly became a central element of glam rock fashion due to its ability to accentuate the wearer's body shape – while creating a striking visual impact.
The jumpsuits typically featured vibrant colors, bold patterns, and metallic finishes, which added to their captivating visual allure under stage lights. Since the stage performances of glam rock artists were theatrical spectacles, spandex jumpsuits were vital in creating an unforgettable and glamorous image.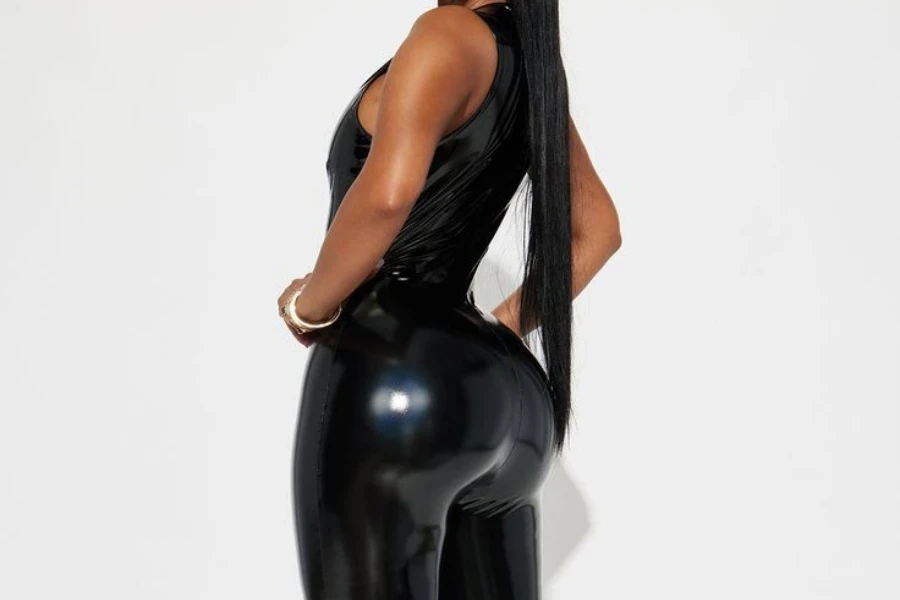 However, they only remained as performance costumes for a short time. Spandex jumpsuits also found their way into the everyday fashion of glam rock enthusiasts. Fans and followers of the genre embraced this trend to express their individuality and to identify with glam rock culture's rebellious and extravagant spirit.
Spandex jumpsuits symbolized this era, representing the vitality, freedom, and creativity that defined glam rock. The good news is this sleek and futuristic trend has retained its spark and remains relevant for glam rock lovers in contemporary fashion.
Velvet jackets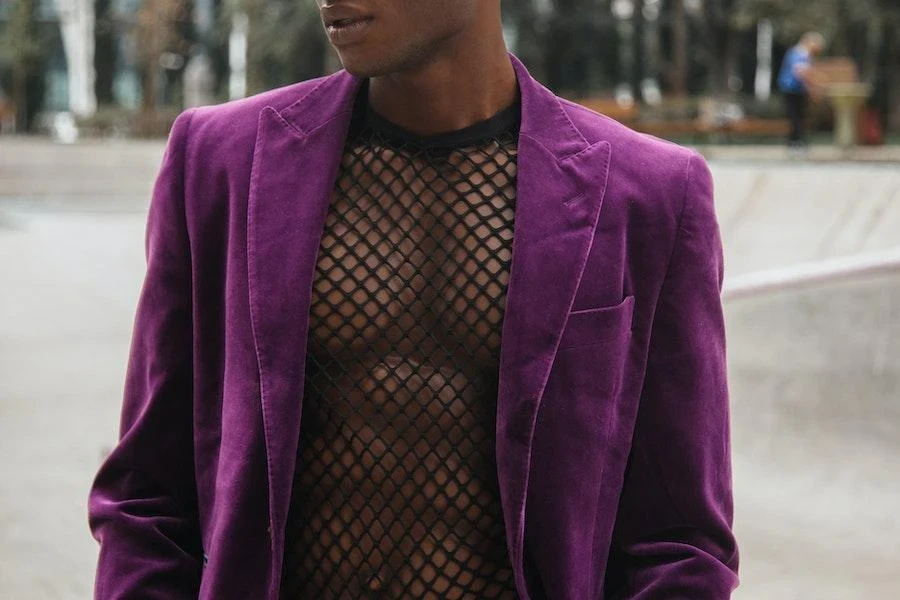 The glam-rock era didn't disappoint when it came to style. Interestingly, one of the most popular trends dominating that era was velvet jackets – and they're making a comeback this season.
The jacket's soft and plush texture exudes opulence and elegance, making it a perfect fit for the flamboyant style popular with glam rock styles. 
Undoubtedly, velvet jackets came in various styles, including tailored blazers, boleros, smoking jackets, and long flowing coats, each designed to accentuate the wearer's bold and expressive personality.
Traditional velvet fabric was not the only material used to make glam rock velvet jackets. Designers also experimented with various textures, colors, and patterns. As a result, many variations featured metallic and crushed velvet. Some designers also adorned velvet jackets with sequins, embroidery, and rhinestones.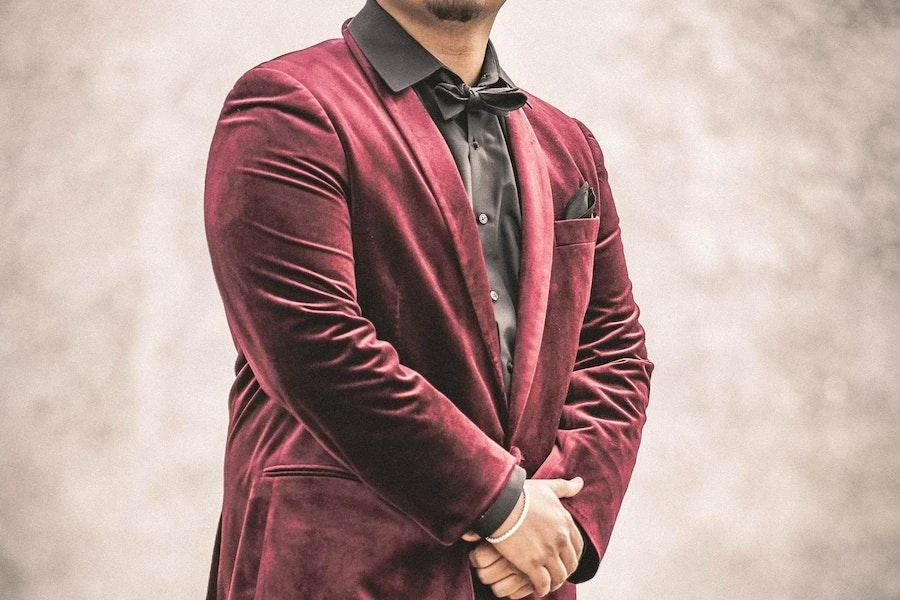 The color palette also stayed true to this trend's glamorous nature. It ranges from rich jewel tones like ruby red, sapphire blue, and emerald green to eccentric hues like electric pink and neon yellow. These vibrant colors increased the jacket's visual impact, especially with glitter and other dazzling embellishments.
To wear velvet jackets in a glam rock-inspired fashion today, modern enthusiasts can take inspiration from the era and combine them with contemporary elements. Pair a velvet blazer with fitted trousers, a satin shirt, and platform boots for a classic glam look. Layer a velvet jacket over a graphic t-shirt, skinny jeans, and studded accessories for a modern twist.
Flared trousers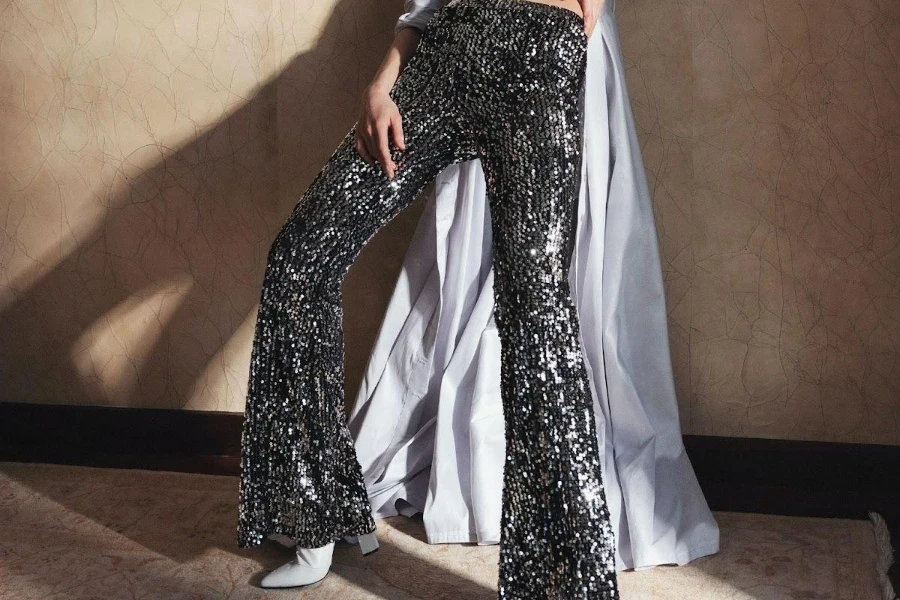 Another glam rock trend experiencing a revival this season is flared trousers. They're here again with their distinctively wide and flaring silhouette from the knee down – looking like they never aged. No doubt, flared trousers' unique designs showcase a bold and eye-catching appearance that perfectly embodies glam rock's rebellious and boundary-pushing spirit.
Glam rock is about embracing bold and vibrant styles, and flared trousers are no exception. They come in various fabrics, colors, and patterns, ranging from shimmering metallics like lamé and satin to bold, psychedelic prints like paisley, floral, and geometric designs.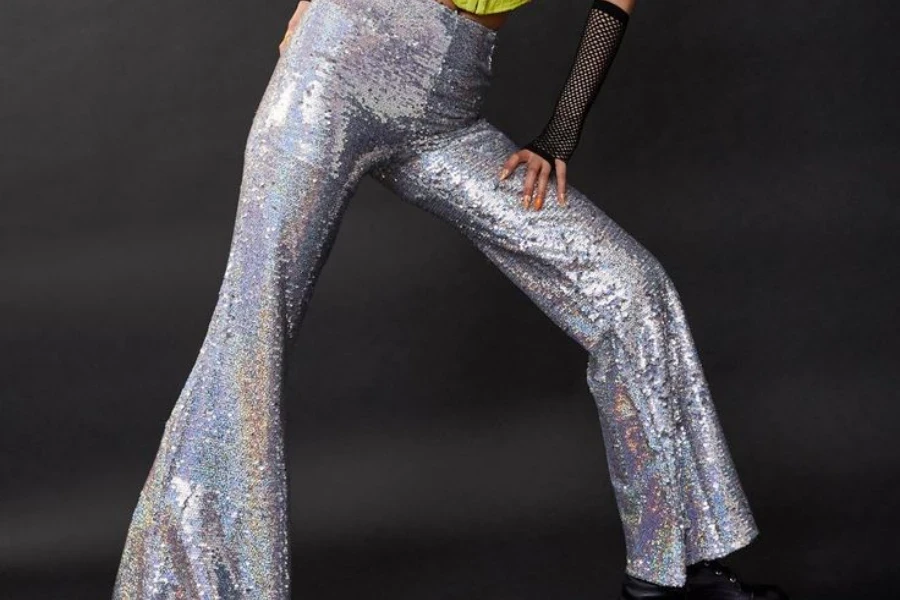 Flared trousers also transcend gender boundaries, allowing men and women to showcase a striking style. In addition, wearers can don flared pants to express individuality and break free from traditional gender roles.
Recreating a glam rock look with flared trousers in modern times is a fashion-forward move. However, wearers must mix some contemporary elements to make them look trendy. Therefore, a perfect take on the trend would be pairing flare trousers with a fitted blouse or graphic t-shirt.
Silk shirts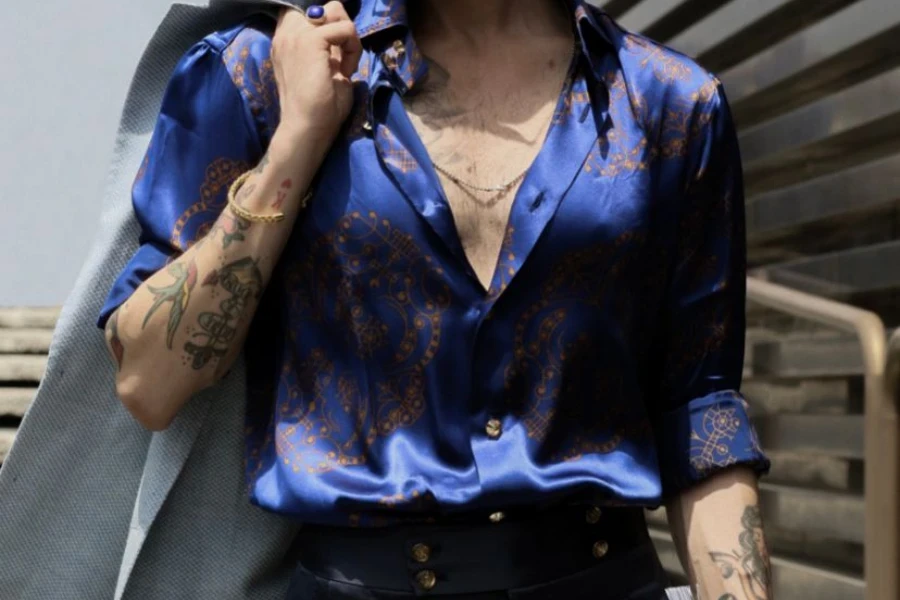 Silk shirts have been a luxurious and versatile staple for many decades — and it's not hard to see why. It takes high craftsmanship levels to weave silkworm cocoons into the soft, smooth, and lustrous fabric that consumers love, adding to its timelessness. More importantly, silk's inherent qualities give the shirts a lightweight and breathable feel, making them ideal for different seasons. 
On top of this, silk's natural sheen makes it a perfect fit for the glam rock era. Although silk shirts are popular in other themes, glam rock gave it a unique style. Most wearers rocked them with unbuttoned collars or tied them into knots, creating a style that exuded nonchalant coolness and rebelliousness.
Beyond that, silk shirts are incredibly versatile, making them suitable for various occasions. Consumers can get them in multiple styles, from tunics and button-downs to blouses.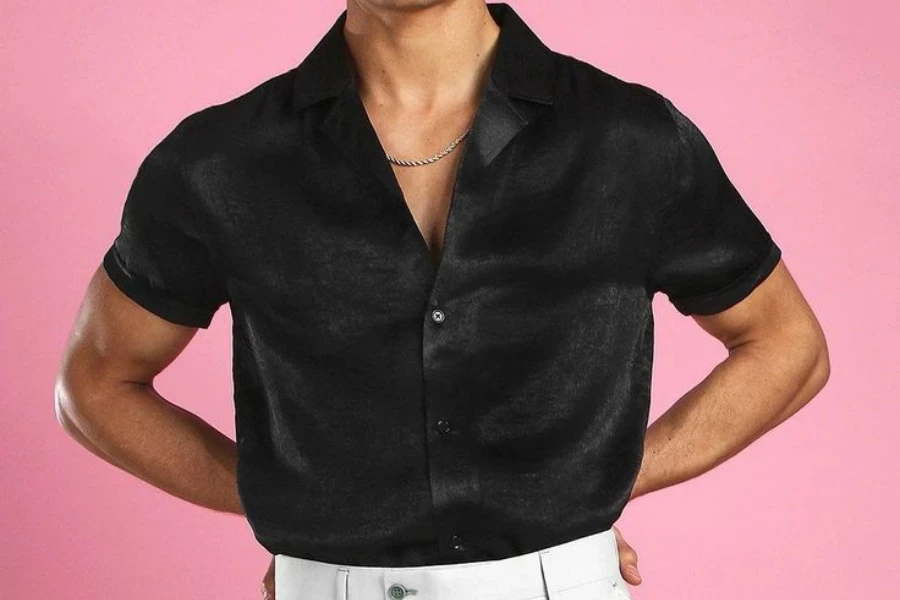 Wearers don't have to go full glam rock to dress in silk shirts. For instance, they can rock a casual and effortless look by pairing a silk shirt with high-waisted jeans or denim shorts. While men can roll up the sleeves and leave a few buttons undone for a relaxed vibe, women can tie the shirt's front into a knot, paying homage to previous glam rock styles.
Leather jackets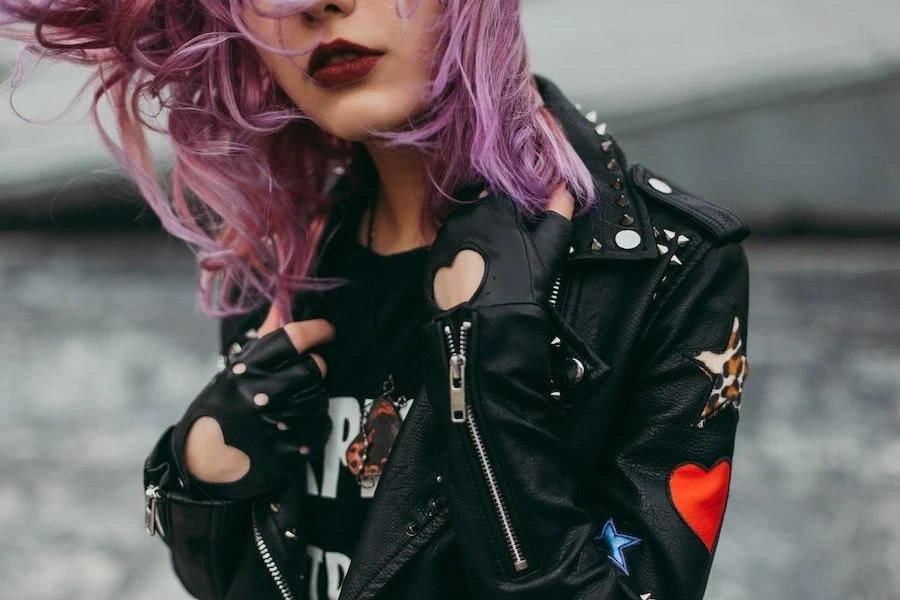 Edgy, rebellious, and shiny leather jackets tick all the requirements to be a quintessential glam rock trend. In addition to being iconic, these jackets have a lot of versatility packed into their sleek appearances, making them perfect for various occasions and styles.
One of the most popular types of leather jackets is the classic biker jacket, often featuring a cropped length, asymmetrical zip closure, and metallic hardware like studs and zippers. Although its design originated from motorcycle culture, it quickly transcended its utilitarian roots to become a symbol of rebellious youth culture.
Consumers looking for a bold and edgy look can don a leather jacket over a graphic t-shirt or band tee. Then, they can complete the pair with ripped jeans to exude a relaxed vibe for casual outings or concerts.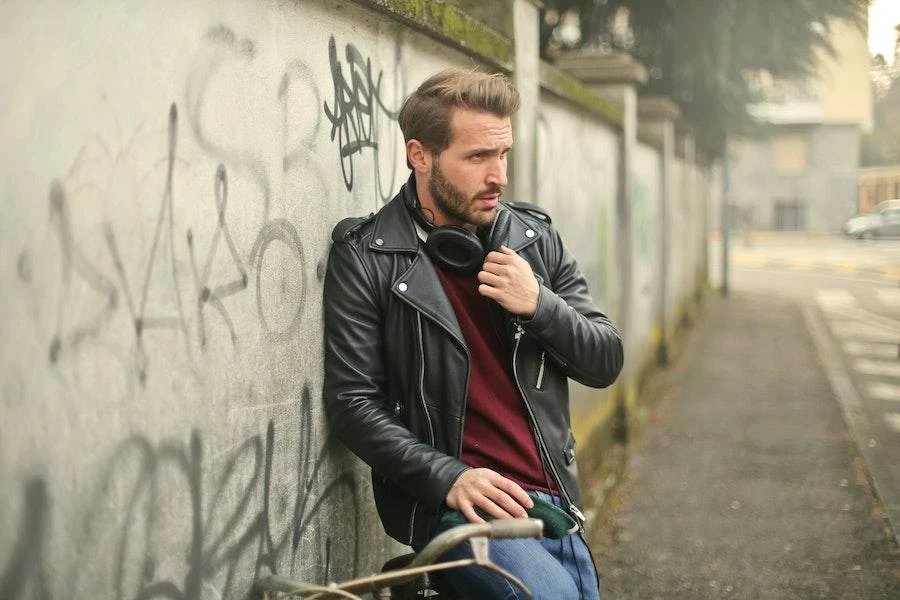 Leather jackets can also create a chic and sophisticated ensemble, especially when consumers layer them over a little black dress or paired with tailored trousers or heels.
Other popular leather jacket styles include moto jackets, bomber jackets, and aviator jackets, each with unique design elements. Moto jackets, similar to biker jackets, have a fitted silhouette and often feature quilted detailing on the shoulders and sleeves. In contrast, bomber jackets have a more relaxed and sporty appearance, characterized by their ribbed cuffs and hem.
Invest in these top trends
The glam-rock trend allows consumers to amplify their personalities and make bold statements. It fearlessly combines metallic accents with colorful details, celebrating glitz with a touch of attitude.
From spandex jumpsuits that embody the essence of the glam rock era to the luxurious and edgy appeal of velvet and leather jackets, the options for rocking this trend are genuinely diverse. Furthermore, flared trousers challenge traditional gender boundaries, while silk shirts exude a timeless and versatile beauty.
These are the top glam rock trends for businesses seeking to tap into the self-expression and individuality market in 2023/24.
Was this article helpful?