Romanticism has made a captivating comeback as of late, infusing classic charm with gothic edge and a touch of mythical surrealism. Drawing inspiration from the enigmatic character Wednesday Addams as well as haunting tales such as Frankenstein, the trend has breathed new life into traditional silhouettes, embellishing them with eye-catching details that evoke a dreamy reinterpretation of the past.
This reemergence has allowed fashion enthusiasts to rock dark romance styles without feeling outdated, and which businesses can profit from. With that in mind, we look at five dark romance trends that are set to dominate the fashion scene in 2023 and 2024.
Table of Contents
The dark romance fashion market in 2023
Exciting dark romance trends that will rock 2023-2024
Go get these trends
The dark romance fashion market in 2023
Dark romance has its roots in the Victorian era, when women's fashion was defined by dark colors, lace, and corsets. Many consider the style romantic and mysterious, and now has strong ties with the gothic novel genre.
The early 2000s drove a renewed interest in Victorian fashion, leading to the development of the dark romance trend, which arguably peaked following the release of the first "Twilight" franchise in 2008, and its depiction of lustful vampires dressed in dark and romantic clothing.
As an offshoot of the Victorian style, the dark romance market is primarily dominated by laces (anticipated to be worth US $63.43 billion by 2030), corsets (expected to surpass US $170 million by 2028), and velvet. Therefore, it remains a profitable market targetted mostly toward women interested in gothic aesthetics.
Exciting dark romance trends that will rock 2023-2024
Dark florals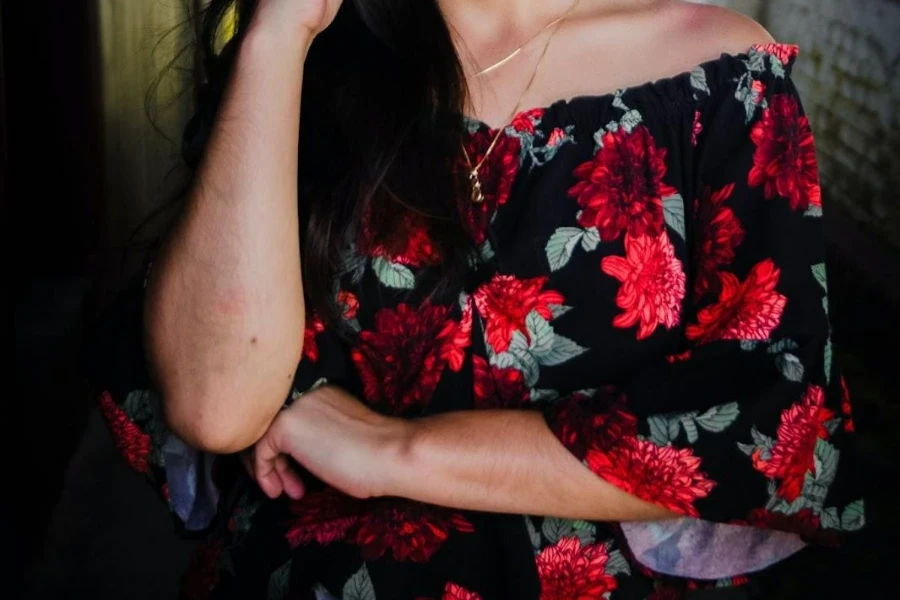 This trend offers a unique and alluring take on traditional floral patterns by infusing them with mystery, depth, and a hint of gothic allure. It matches the beauty of delicate, blooming flowers with darker elements, creating a compelling and dramatic aesthetic that exudes romance and dark enchantment.
The secret to dark florals is in the color palette and design elements. Instead of the typical bright and vibrant hues commonly found in regular flowery prints, dark florals incorporate deep, moody tones like burgundy, purple, forest green, and rich blues. These prints against a black or dark background, giving its intense hues the impression of mysterious and opulent flowers blooming in the shadows.
More importantly, dark floral patterns often include more elaborate and intricate designs than standard florals. Consumers can find motifs like wilting roses, thorny vines, darkened petals, or even abstract renditions of floral elements that imbue these outfits with a surreal feel and a visually captivating and emotionally evocative style.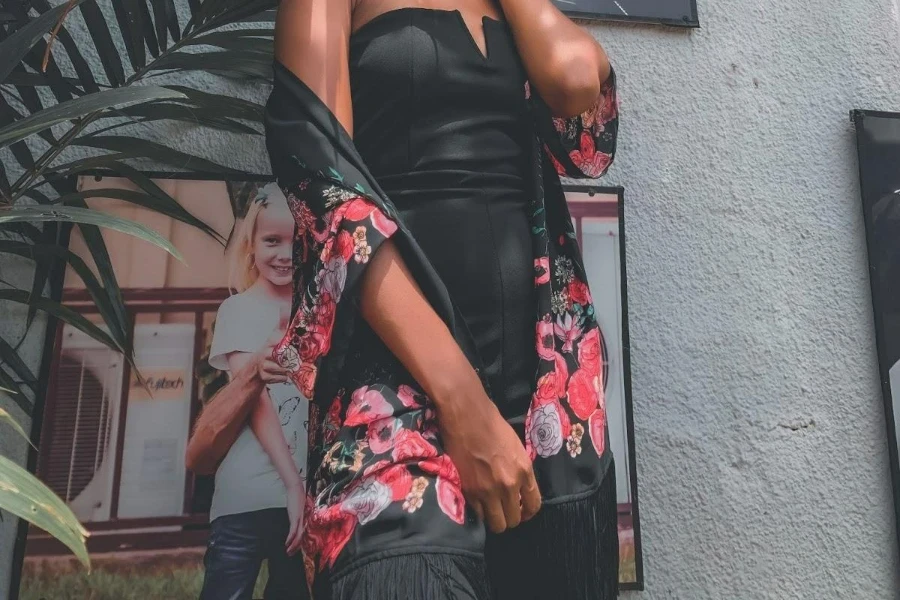 Dark florals make for great wardrobe essentials. For dresses, flowing maxis with cascading dark floral patterns are perfect for exuding a whimsical and otherworldly vibe. On the same note, midi or mini dresses with subtle dark floral accents help to incorporate the trend into more casual and evening looks.  
Blouses and tops are not exempted from dark romance fashion, and even blazers and jackets can stunningly showcase dark florals.
Lace and velvet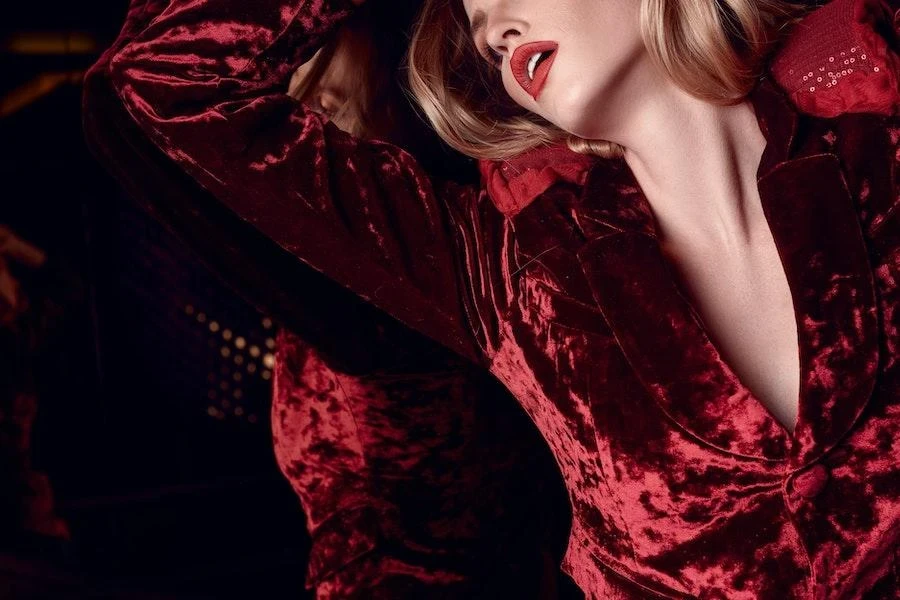 Lace and velvet are two luxurious and captivating fabrics that, when combined, create a stunning dark romance ensemble. This trend beautifully blends the ethereal delicacy of lace with the sumptuous richness of velvet, resulting in a style that exudes sensuality and dark allure.
With its intricate and delicate patterns, lace has been associated with femininity and elegance since the 1600s. In truth, the lace takes on a more mysterious and sensual character when used in dark romance themes. Black lace, in particular, is a staple in this trend as it offers added dramatic elements. Plus, lace's sheer nature allows for subtle glimpses of skin, adding a hint of seductiveness to the overall look.
Velvet, meanwhile, is a fabric known for its opulence and luxurious texture. Its smooth and plush surface creates a captivating play of light and shadow, enhancing the dark romance aesthetic. Velvet's deep, rich tones, like burgundy, emerald green, and midnight blue, often amplify the romantic and mysterious vibe typical of dark romance.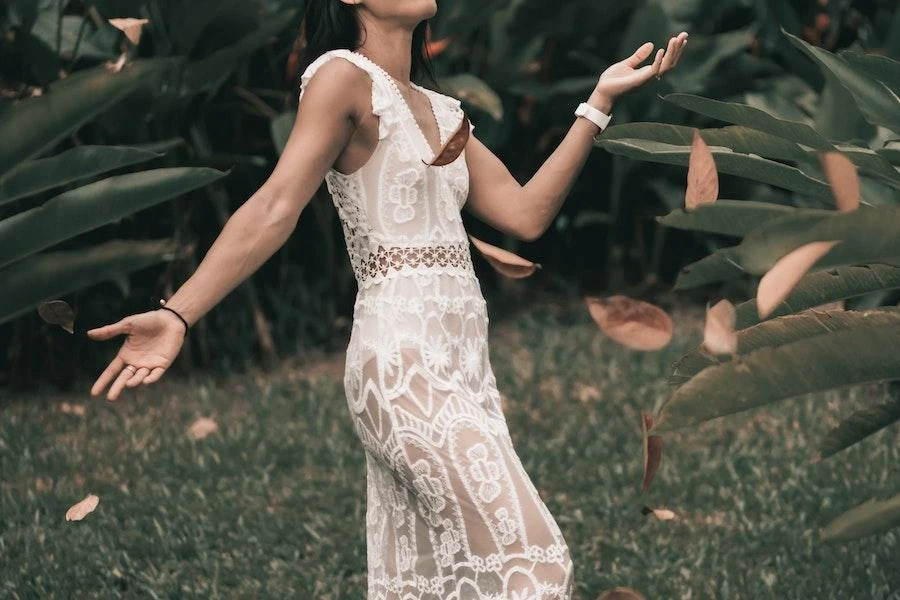 Lace overlay dresses with velvet accents or full velvet dresses with lace details are fantastic ways to channel dark romance. These dresses can vary in length, from short and flirty to long and flowing, depending on the desired level of sophistication.
Another alluring option is a lace blouse paired with velvet pants or skirts. Women can also switch things up with velvet tops featuring lace trimmings for more elegance.
Tulle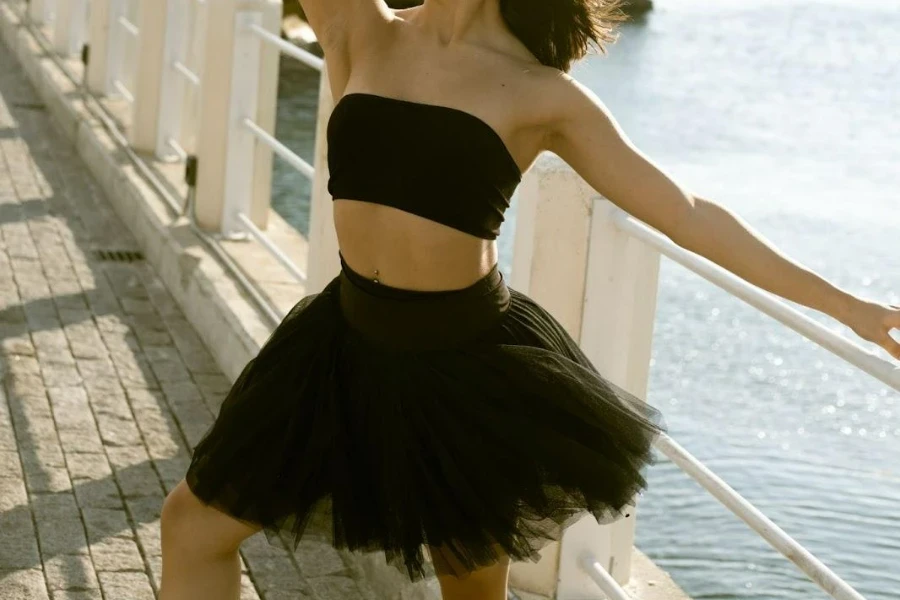 Tulle adds a touch of ethereal allure and enchanting mystery to any look. Typically associated with ballerina tutus and dreamy princess gowns, tulle takes on a darker and more romantic persona in this trend. It embraces the fabric's delicate, sheer, and floaty qualities while infusing it with more profound, moody tones and intricate design elements.
Dark romance tulle garments often feature deeper colors like black, deep plum, navy blue, or burgundy. These hues evoke a sense of darkness and sophistication, contrasting with the traditionally lighter shades commonly associated with tulle. Consequently, the fabric's soft and delicate nature contrasts with the dark color palette, creating a mesmerizing and enchanting visual effect.
Tulle dresses are a standout choice for this trend, with layers of sheer fabric creating a whimsical and romantic silhouette. Look for dresses with lace or velvet accents to enhance the dark romance aesthetic.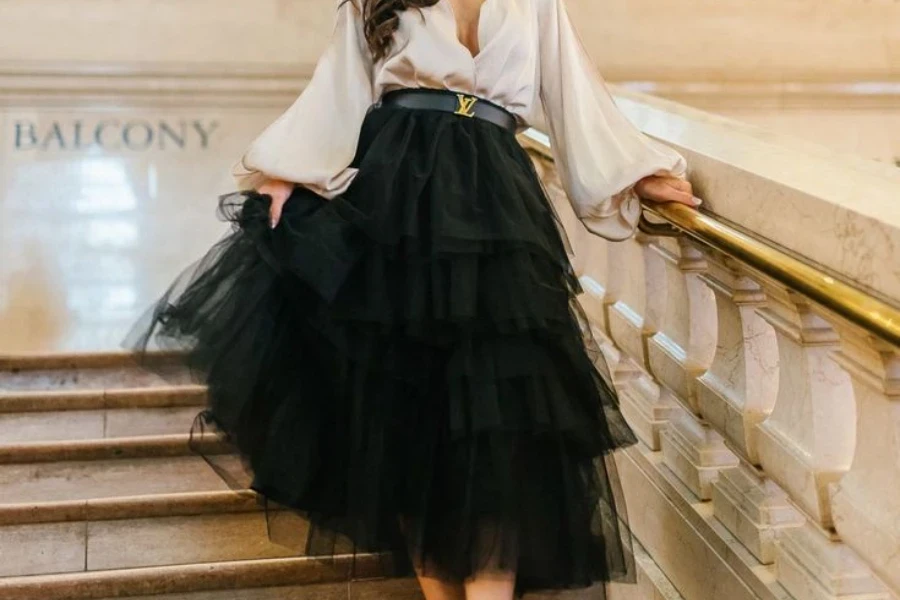 Contrarily, tulle skirts, whether in midi or maxi length, can add a touch of drama and femininity to any outfit. Pair them with fitted tops or corset-style blouses, and the wearer achieves a striking contrast between the flowy skirt and structured upper body.
Women can also experiment with some layering via tulle capes and overlays, wearing them over dresses or tops to add depth and texture to an outfit.
Victorian style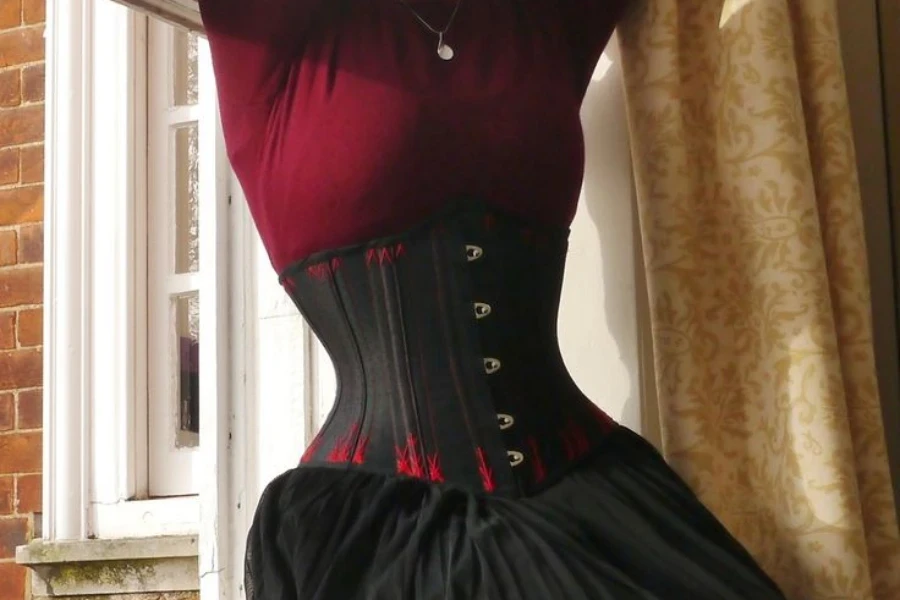 Dark romance also draws inspiration from Victorian-era fashion, which spanned the mid-19th century to the early 20th century. This trend embraces Victorian fashion's luxury, elegance, and romanticism while infusing it with a darker and more mysterious aesthetic. 
It combines elements like high necklines, ruffles, lace, corsets, and intricate details with a color palette of deep, moody tones, evoking a sense of enchanting darkness and sensuality. As a result, trends like Victorian-style blouses and dresses featuring these elements have taken root in dark romance. They exude modesty and sophistication with a mix of dark romance's mysteriousness.
Corsets are a defining feature of the Victorian era, and in the dark romance trend, they are used as both a structural and fashionable element. Corset tops or dresses can create an alluring hourglass silhouette, making an outfit feel more sensual.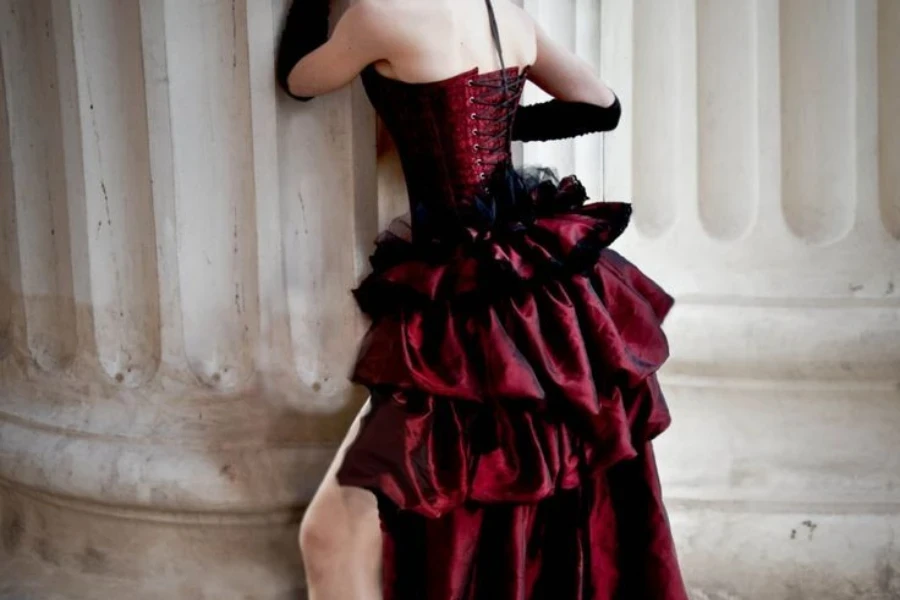 Long, flowing gowns with intricate lace details and ornate embellishments are reminiscent of Victorian ball gowns. But dark romance versions of these gowns often feature deeper colors and may include sheer or tulle overlays for a more mysterious and ethereal look.
Polka dots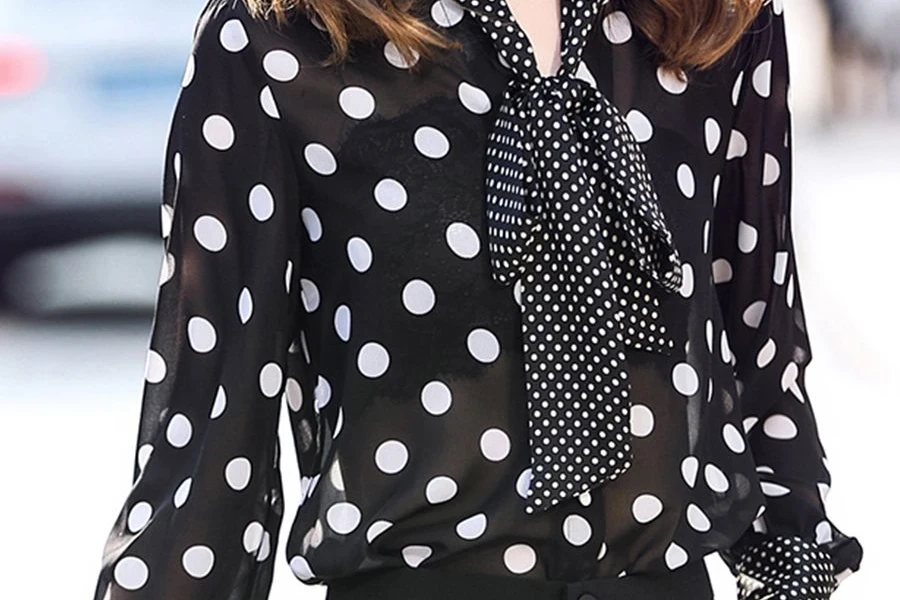 Although traditionally playful and whimsical, dark romance adds a unique and unexpected twist to the classic polka dot pattern. Here, polka dots are reimagined in a more mysterious and alluring way, incorporating darker colors and bolder designs to create added allure.
The key to embracing polka dots in dark romance fashion is to focus on the color palette and the scale of the dots. Instead of the usually bright and cheerful hues, this trend steers the pattern towards darker tones like black, burgundy, navy blue, or deep purple.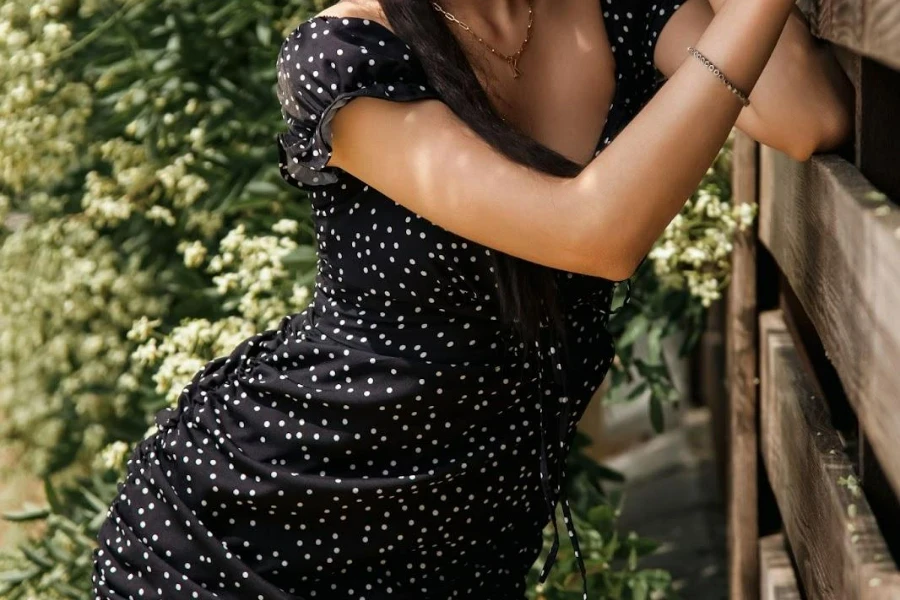 Polka dots look gorgeous on various garments. For instance, dresses with a dark background and contrasting light dots can create a stunning visual impact. Opting for flared or flowy silhouettes (reminiscent of vintage styles) will enhance the fun aspect of this outfit.
Women looking for more sensuality may want to opt for sheer blouses with polka dots. By combining them with lace or velvet accents, ladies can fully immerse themselves in the dark romance aesthetic. 
Go get these trends
The dark romance revival reinterprets historical elements with modern delicacy, showcasing the beauty of an entire era. Moody colors and striking prints, like polka dots and dark florals, add drama and allure.
Lace, velvet, and tulle contribute to the trend's enchanting charm, while the return of Victorian-style ruffles and puffed sleeves adds a touch of timeless elegance. These captivating trends promise to drive sales in the 2023-2024 fashion landscape, inviting enthusiasts to embrace the allure of dark romance.
You can browse and source thousands of products like the ones mentioned above on Alibaba.com.
Was this article helpful?