Goalie gloves are an essential piece of football/soccer equipment designed to protect the hands of the goalkeeper and provide superior grip and ball control to the wearer. Whether the goalkeeper is just starting out on their football journey or they're a seasoned player, having the right goalie gloves can make all the difference to their performance. Not all goalie gloves are designed the same though, so consumers will usually take their time to decide which ones are the best for them. Keep reading to learn more about the best goalie gloves for all ages and abilities. 
Table of Contents
Global market value of goalie gloves
Key features of goalie gloves
The best goalie gloves for all ages
Conclusion
Global market value of goalie gloves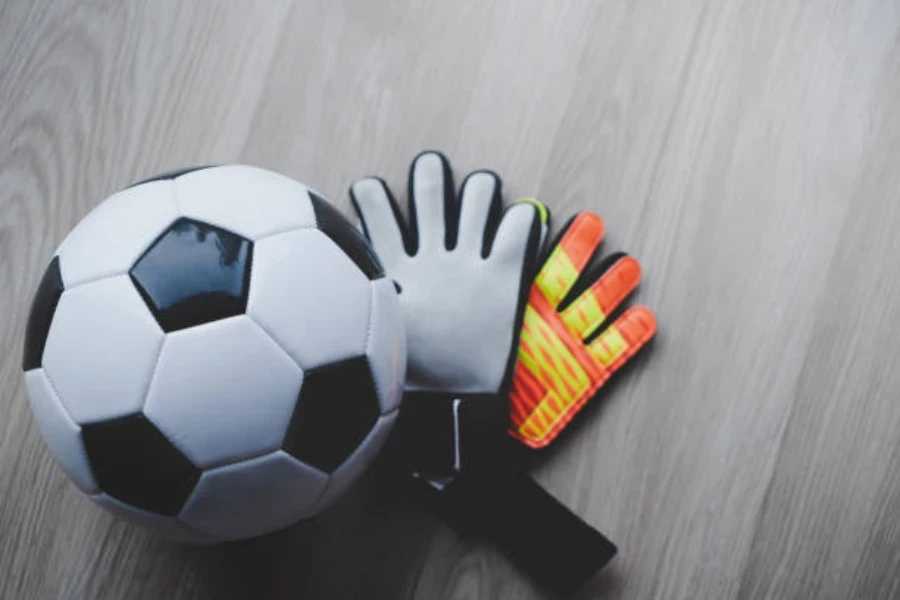 Football is one of the most popular sports around the world, both in terms of spectator sport as well as participation. Therefore, goalie gloves are a hot commodity year-round, with demand tending to pique around the warmer months or when global professional football tournaments are being held. With football equipment now readily available through e-commerce platforms, consumers can easily access the latest releases goalie gloves without even leaving the house.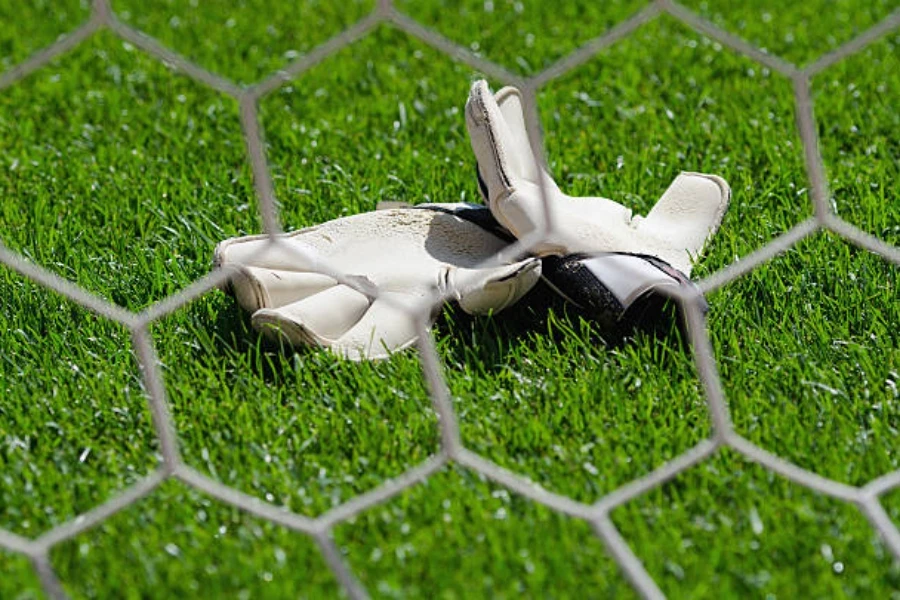 In 2023, the global market value of football goalie gloves was approximately US $3 billion. Within a 10-year period, the market is expected to have a compound annual growth rate (CAGR) of 5.2%, bringing the total value to US $5 billion by 2033. Europe is the biggest market for football gloves worldwide, and in the years to come, the demand for negative cut gloves, a hybrid design style combining a negative and roll finger type for greater comfort, is forecast to increase more than other types.
Key features of goalie gloves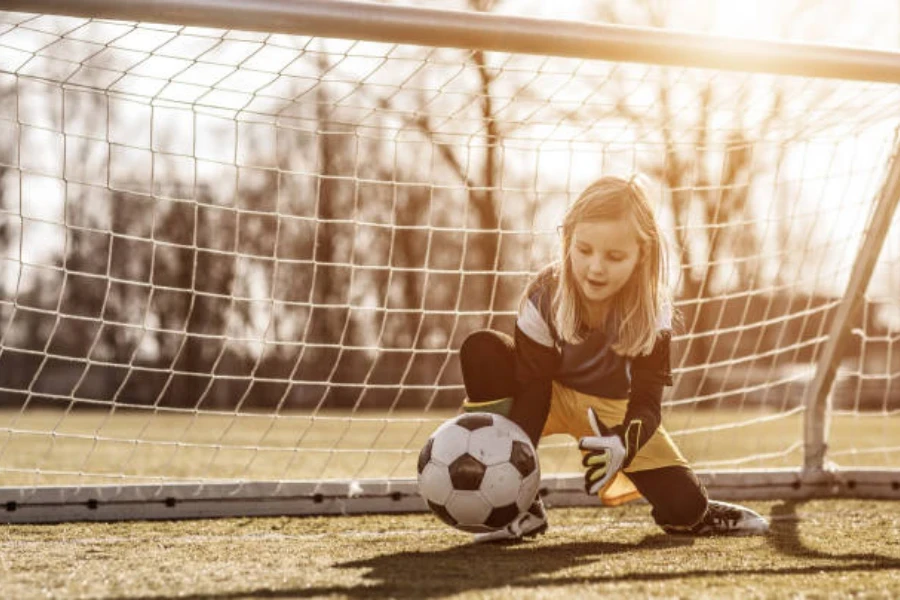 With new football technologies emerging, there has been a surge in modern-day goalie gloves entering the market that better adapt to the individual player. Goalie gloves have some important features to take into account, much in the same way as football shoes, and it's down to the individual consumer to decide which type of goalie gloves they think will better assist them. 
Some of the key features that consumers will take into account include the grip of the gloves for catching and throwing; the cut of the gloves which can vary depending on the style; the wrist closure, which is commonly velcro; the amount of padding for protecting the hands; overall finger protection; durability; the brand and model; and whether the gloves are designed for use in specific weather conditions.
The best goalie gloves for all ages
Goalie gloves used to be a relatively straightforward piece of football kit, but with the emergence of new technologies fueled by football-specific studies, they have become more technical and now include features tailored to individual players as well as the playing conditions.
According to Google Ads, goalie gloves with the highest average monthly searches include "fingersave goalkeeper gloves" with 1,900 searches, "negative cut goalkeeper gloves" with 590, "roll finger goalkeeper gloves" with 480, "hybrid cut goalkeeper gloves" with 170, and "flat cut goalkeeper gloves" with 50. In the next section, we'll detail the differences between these different types of goalkeeper gloves.
Fingersave goalkeeper gloves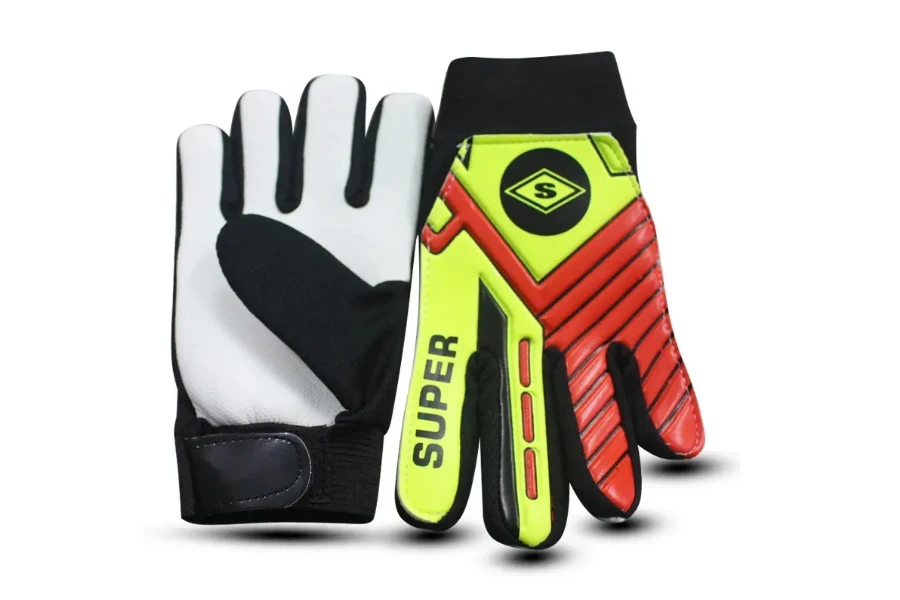 Fingersave goalkeeper gloves are unique in that they offer the wearer additional support and protection around the fingers. These gloves are designed with a rigid spine in the fingers, which is usually made out of plastic or a lightweight, thin metal. The spine, which lines the backend of the gloves, helps to prevent the fingers from bending too far backwards when catching a ball or during collisions.
Although the spine is designed to prevent injuries, it doesn't affect the flexibility of the gloves since they are designed to still allow for a natural range of motion. These gloves are often made of a high-quality latex material with a secure closure system for added safety. They are also available in different cuts, depending on the player's preference. Finger spine gloves are particularly popular with older players, who may be prone to injury, as well as junior players, who can be at a higher risk of sprained or broken bones.
Negative cut goalkeeper gloves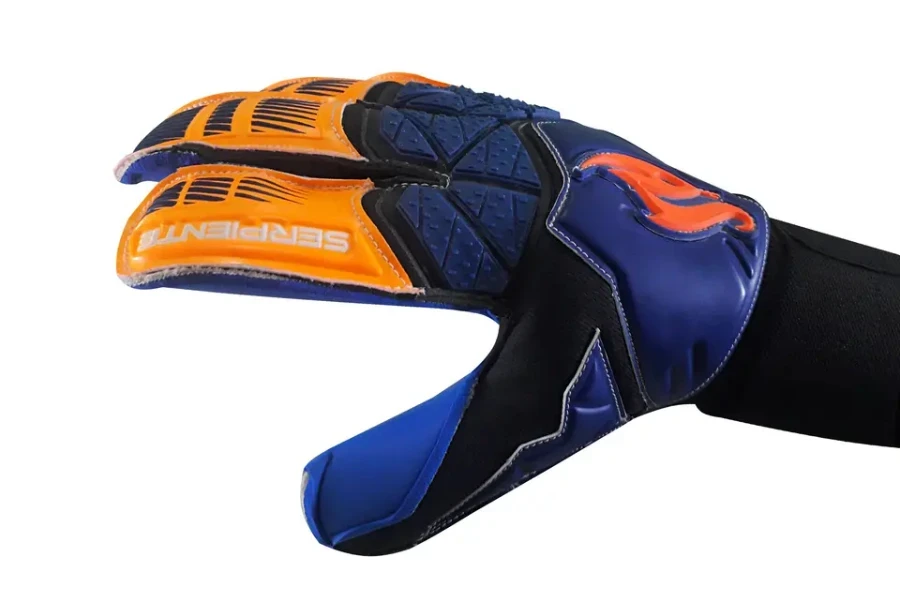 In terms of popularity among modern football players, negative cut goalkeeper gloves are right up there. Negative cut gloves offer goalies a unique design whereby the stitching is found on the inside of the glove rather than the outside, as found in traditional goalie gloves. These gloves look different than other styles because of the cut, and are designed to provide a more snug fit around the hands and fingers, reducing excess space inside the glove that can sometimes hinder the goalkeeper.
The snug fit of the negative cut gloves allows for more precision handling of the ball and better ball control overall. The thinner style of these gloves also reduces the chance of the gloves bunching, and gives a more minimalistic appearance and feel, which some consumers prefer. The firm and comfortable wrist closure completes the look. 
Flat cut gloves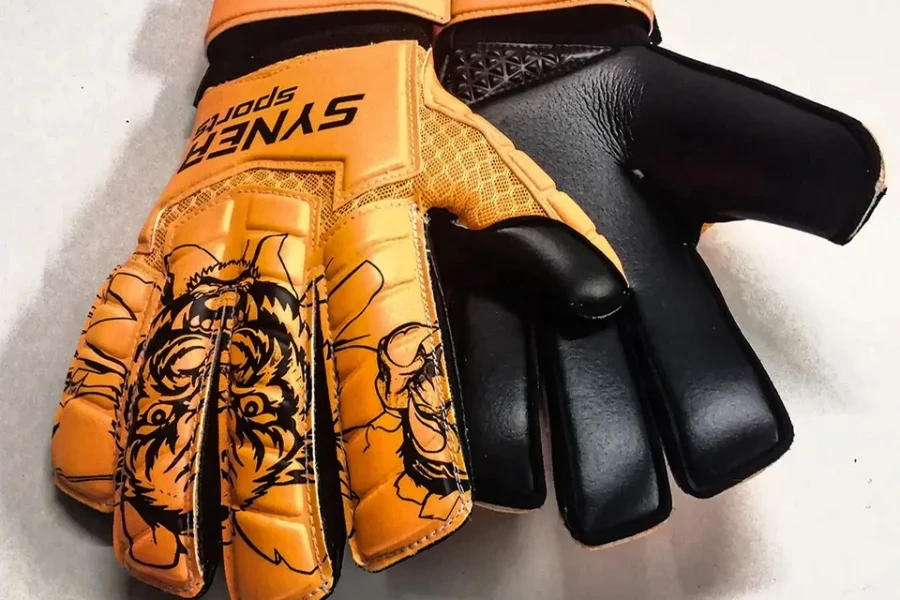 The most commonly used goalie gloves over the years are flat cut gloves. The palms of these gloves are designed to have a flat surface that provides a larger surface area for improved catching. The backend of the gloves are constructed using fewer stitches than other types of goalie gloves, which gives them a classic look that a lot of goalkeepers love. Unlike negative cut gloves, which are designed with a snug fit, flat cut gloves are very spacious inside, helping to improve ventilation and reduce sweating.
Although flat cut gloves don't offer goalkeepers as many features as other gloves, they remain a trusted option for many, and the simple design makes them ideal for all levels of goalkeeper, including beginners who require a more spacious fit and a larger catching area.
Roll finger goalkeeper gloves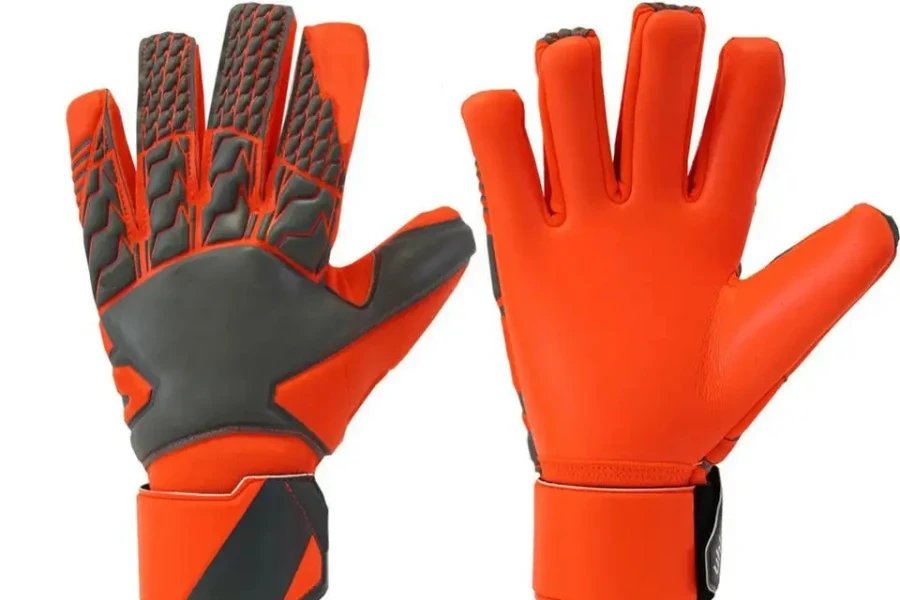 Roll finger goalkeeper gloves are suitable for all ages and offer goalies a unique fit thanks to latex wraps around the fingers that provide a larger contact area for the ball. This design helps to enhance ball control, maintain grip even in wet conditions, and provide a seamless feel that isn't found in other gloves.
Since roll finger gloves have a snugger fit than other varieties, ventilation comes from the back of the gloves, where the material is more breathable. These modern goalie gloves also often come with unique and eye-catching designs that appeal to goalies who like to stand out on the pitch.
Hybrid cut goalkeeper gloves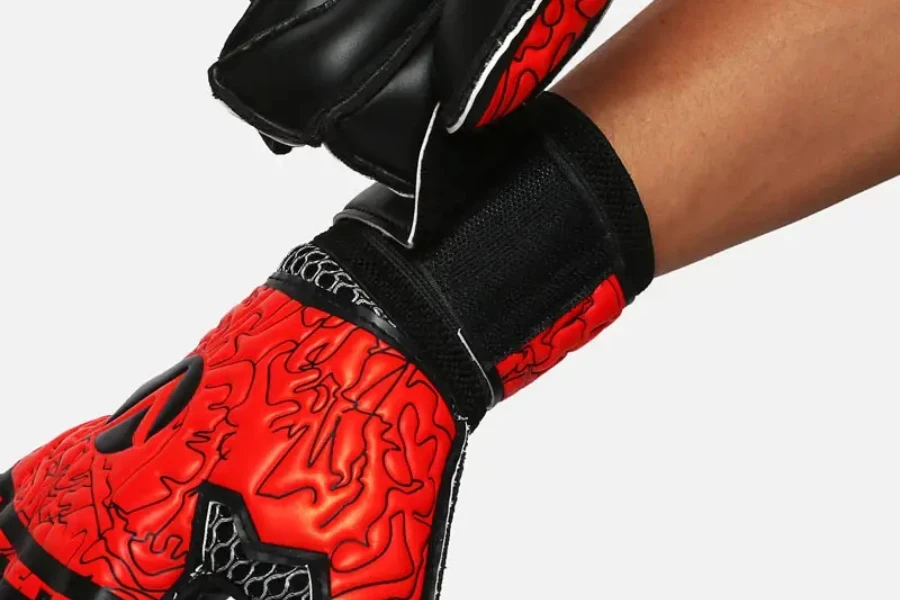 One of the latest goalie glove styles to hit the market are hybrid cut goalkeeper gloves. As the name suggests, these gloves combine different cuts to create the ultimate goalie glove. The different cuts help to maximize key benefits, such as a more customized fit to assist with ball control and grip. For example, it's not uncommon for hybrid gloves to combine the fingers from roll finger gloves and the cut from negative cut gloves.
The enhanced ball control that hybrid cut gloves provide is complemented by a snug fit around the fingers, a durable feel that makes them perfect for all weather conditions, and comfortable wrist closures that come in  wrap-style bandages or velcro fastenings. 
Conclusion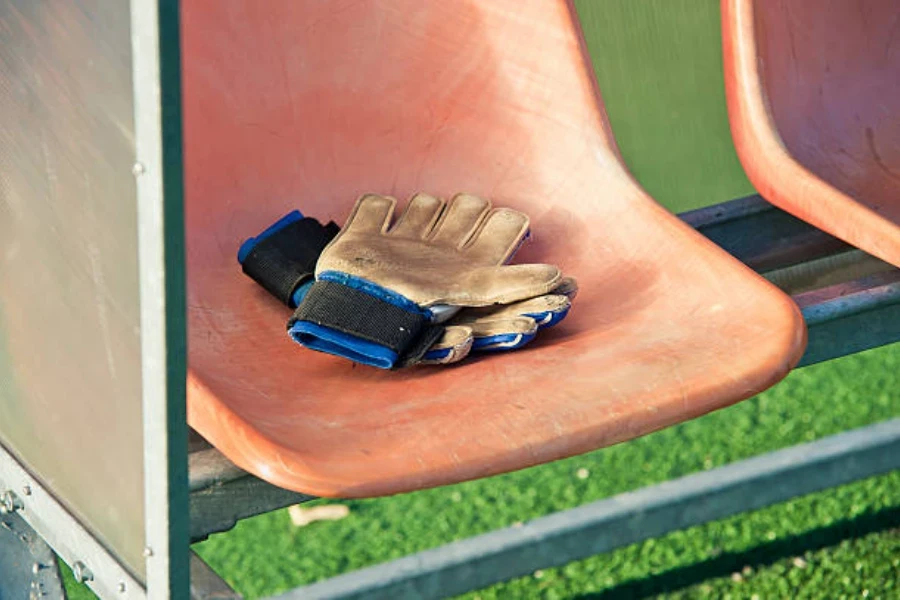 Above, we've covered the top goalie gloves for all ages as well as defined which are suitable for specific players and playing conditions. Before a consumer purchases goalie gloves, they'll first look at features such as the grip, the cut of the gloves, how the gloves feel, and their durability. Goalie gloves currently popular among consumers include fingersave gloves, negative cut gloves, flat cut gloves, roll finger gloves, and hybrid cut gloves.
Football is one of the world's most popular sports, and as more people of all ages take up the sport recreationally or professionally, the demand for football equipmentwill also increase. In the future, consumers will likely look to purchase goalie gloves with modern features as well as technological advancements, which is something to consider in the long run before stocking different varieties of gloves.
You can browse a huge variety of different goalie gloves, such as the ones detailed above, on Alibaba.com.
Was this article helpful?