The home office market exploded during the pandemic with desk, desk chairs, file cabinets, and bookcase running out of stock from major online furniture shops.
While the demand has since slowed, several online retail stores are still thriving in this market.
Businesses and companies are adopting work-from-home policy to reduce rental costs and improve employee productivity. And with this strategy, they're investing in home office furniture and equipment that fit small spaces at their employees' homes.
In this article, you'll learn why the home office market is worth investing in. You'll also discover unique home office ideas for small spaces that will leave buyers saying, "Why didn't we think of that?"
So let's dive in.
Table of Contents
The market for home office equipment
Why you need a physical space for your home office
7 trendy home office ideas for small spaces
The bottom line
The market for home office equipment
Data from Allied Market Research valued the global market for home offices at US$ 3.032 billion in 2020. The market is projected to grow at a compound annual growth rate(CAGR) of 8.8% to reach US$ 7.615 billion in 2030.
This surge in demand for home office furniture is due to the rising popularity of work-from-home policy worldwide.
The pandemic forced companies and schools to operate from home and many of these institutions have adopted a hybrid system. This means that the market for home office furniture and equipment will continue to grow.
Why you need a physical space for your home office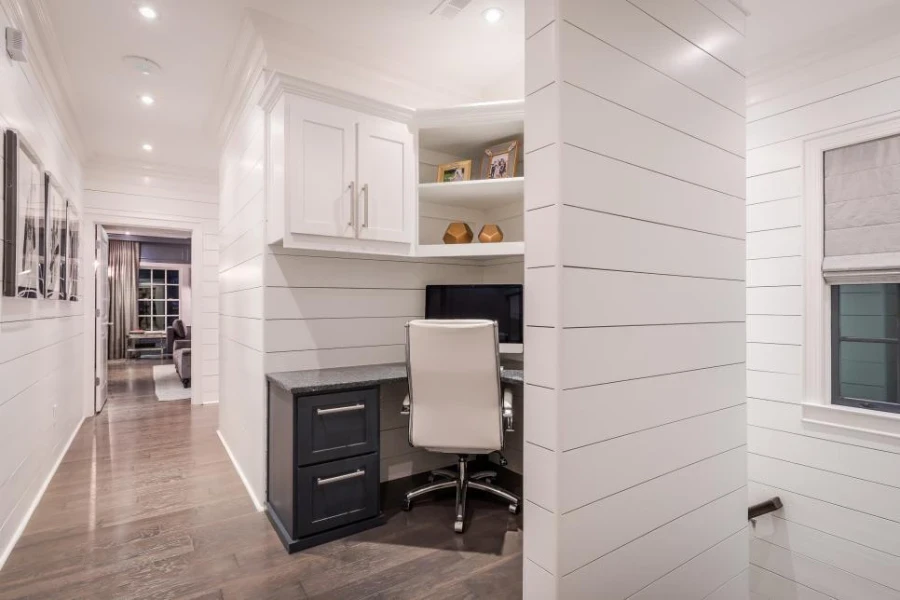 Working from a home office has challenges, but establishing a physical space in the corridors or living room can reduce those issues.
On the plus side this means no more dreadful commutes, stiff office chairs, and no more water cooler small talk.
Here is why many companies are investing in physical space for their team at home:
1) To create a boundary between work and personal life
Setting up a small office space helps employees to avoid mixing personal and work life. With this arrangement, they can professionally run a business without impacting their family life.
2) To meet client expectations
Top-notch businesses or companies don't want their clients raising an eyebrow at their operations. Therefore, they're investing in well-designed small home offices to allow their teams maintain professionalism and attract clients.
3) To reduce distractions
And let's not forget the family factor. We know how adorable and loving they can be. But let's face it: sometimes, they can be distracting. This is why people need a place at home where they can say, "Do not disturb" without feeling guilty.
4) To improve work-life balance
Many business people and executives working from home struggle to balance personal life and work. But with a separate small office space, organizations allow their workers to set work time and spend the rest with family.
7 trendy home office ideas for small spaces
Whether employees live in a tiny smart home or a prefab home, they can implement these trendy home office ideas to design professional working space.
From clever styling to the best office furniture, the ideas are endless. Let's discuss these options.
1. The vertical haven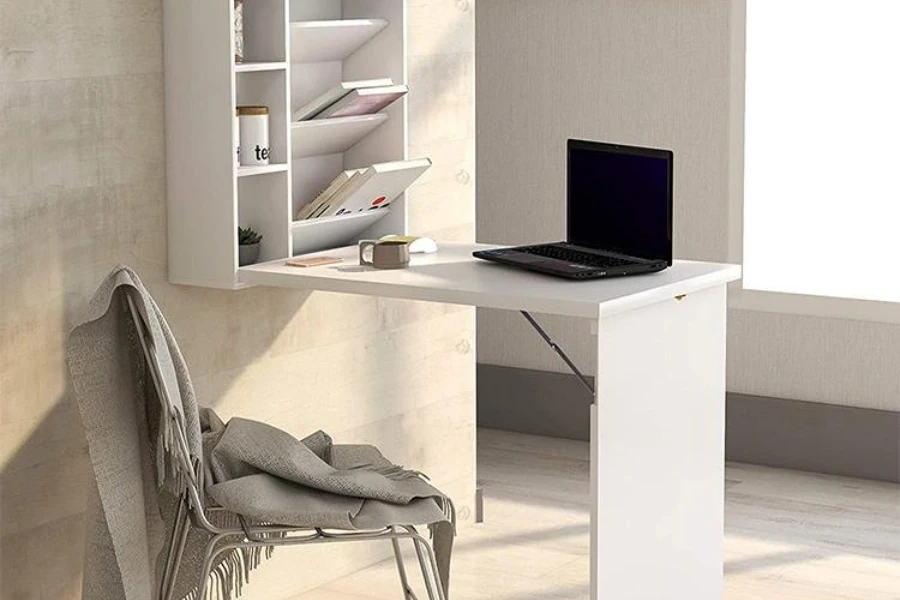 With a narrow space, every square inch counts. But with this approach, the team can turn those empty walls staring back at them into a secret weapon!
Vertical storage allows organizations to create a multi-tier wall-mounted home office to maximize space at their employees' homes. For example, wall-mounted desks that fold away when not in use make it possible to design an office without clutter.
They can create floating shelves on the wall for storing office supplies, helping them stay organized and professional.
But ensure the office is in a well-lit area or establish it near a window to benefit from the natural light.
Want to know more? Check out these home office desk trends to help you utilize vertical walls at home.
2. The transformed closet shelf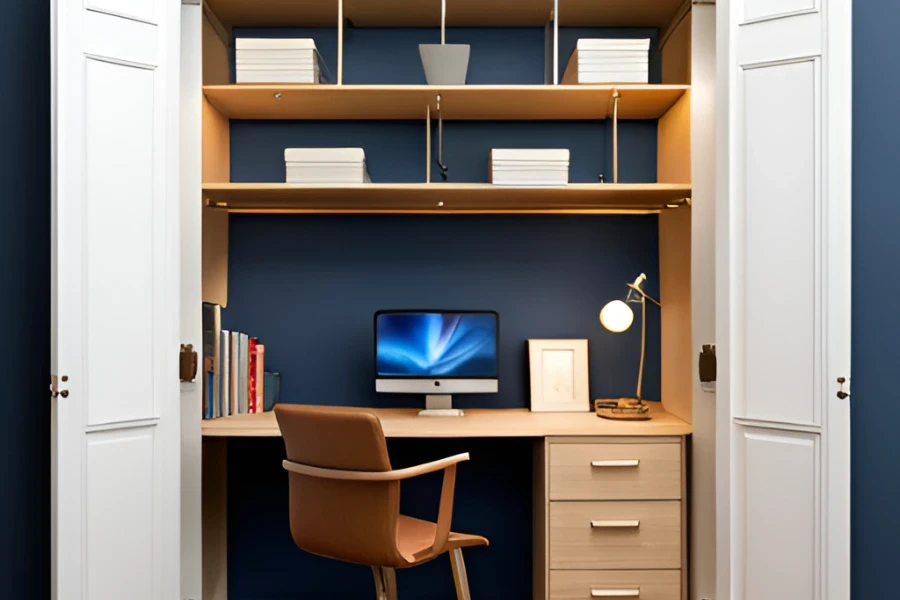 Use the bottom shelf as a desk and the upper shelves to store supplies.
However, before jumping in with this idea, ensure the closet is deep enough to function as an office space. If a space isn't large enough, remodel it. Remove the lower shelves and install the desk high to slide the printer, scanner, and file cabinets underneath.
Paint the closet with refreshing colors and add simple office lighting to brighten the space.
And since the space is limited, use an armless chair that can slide under the desk. You can create more space by replacing closet doors with simple room divider curtains.
3. The convertible nook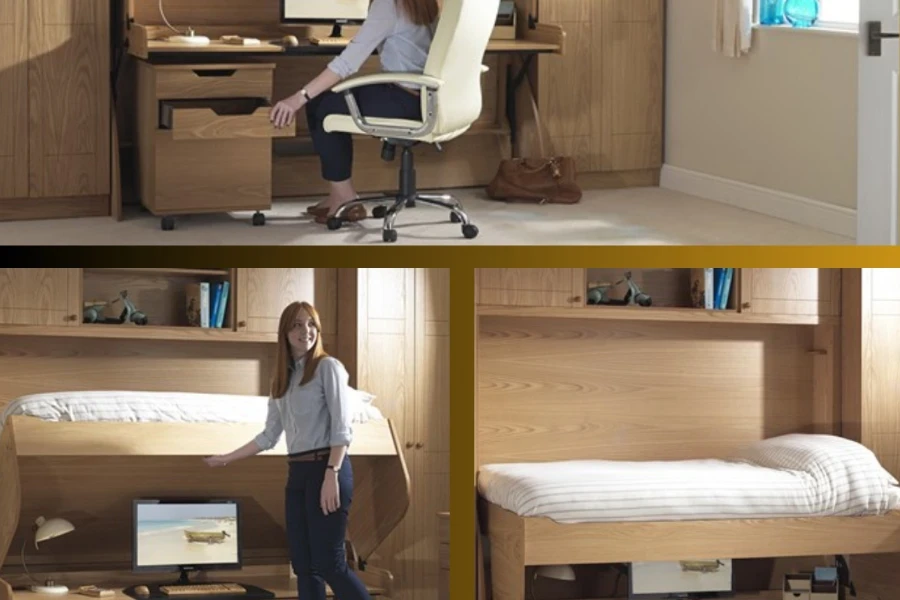 Still dissatisfied? What about a multifunctional and convertible workspace?
We're talking about furniture that's as versatile as a chameleon.
Many corporations have invested in this approach, allowing their employees to transform guest rooms into functional home offices during the day. For example, the Murphy can magically become a home office workstation.
This convertible desk bed can turn any bedroom into a highly functional office. It has a large desk space to keep office machines and supplies. Interestingly, the Murphy bed can unlock without affecting the office equipment sitting on the desktop.
Alternatively, the rotating Murphy bed with a multifunctional wardrobe is also perfect for small spaces.
Other highly demanded convertible space-saving and multifunction furniture for small office spaces include foldable flip-top training tables and wall-mounted floating desks.
4. The stand workstation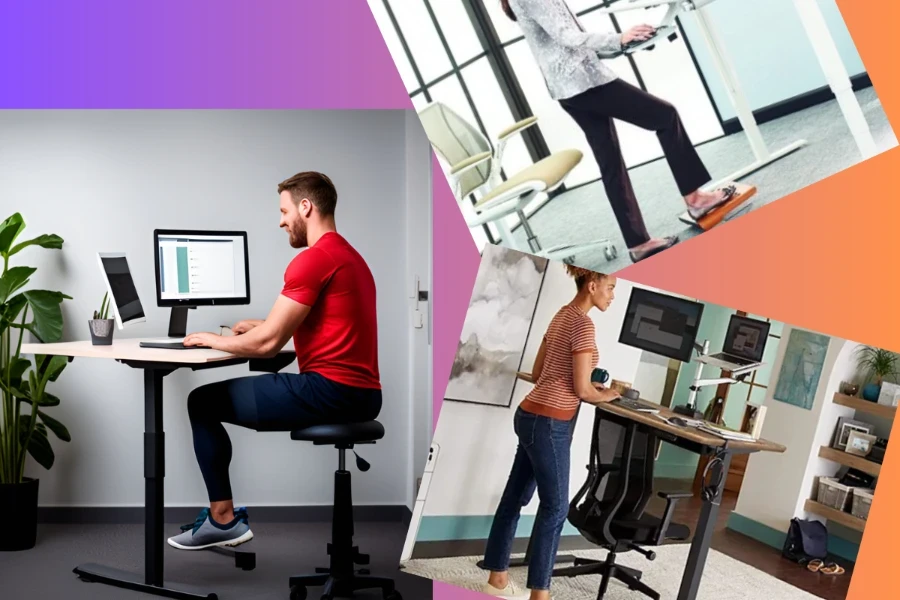 Adjustable lift office desks are ideal for companies or businesses with employees whose work involves standing. These desks occupy less space, and the team can leverage them as a presentation podium to pitch ideas to prospects via video calls.
For example, the adjustable sit-and-stand desk allows executives to work from their bedroom, living room, or patio. With this workstation, they can tilt the desktop at will or adjust its height to suit their ergonomic office chair.
5. The mirror illusion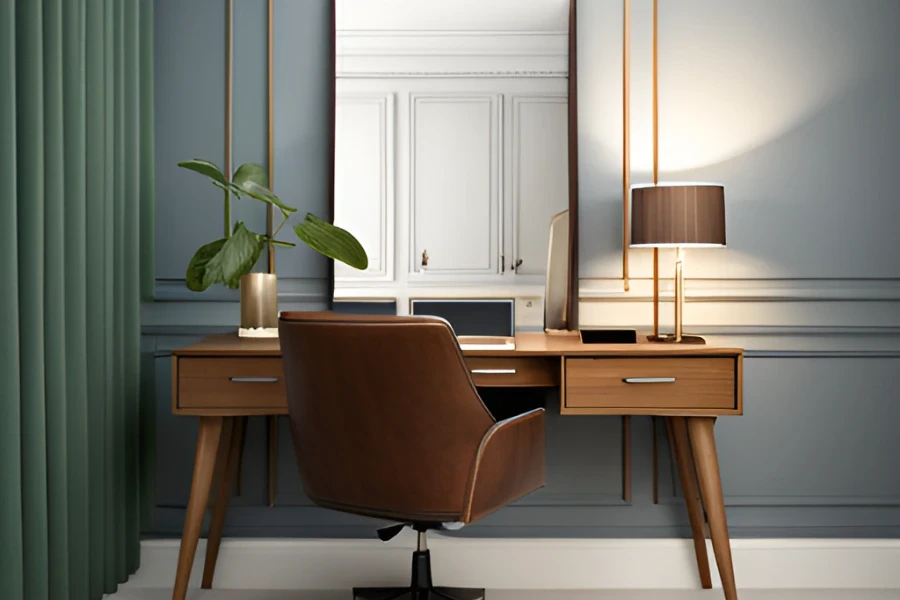 Who says employees need an extra home office space as a workstation? Mirrors are here to save the day. They create an illusion of more space and light, making a tiny office look like a grand ballroom.
Okay, maybe not that big, but you get the point. Strategically placed mirrors will have the office feel surprisingly spacious and brighter.
For instance, placing mirrors opposite windows or on cabinet doors can make a small office space appear large.
6. The nomadic office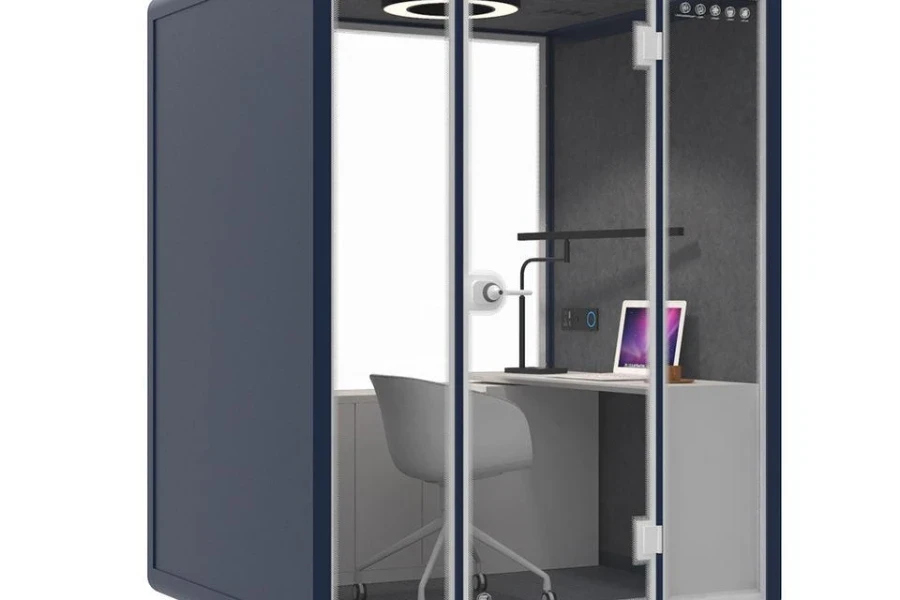 Companies want their workers to perform at their best. This may be hindered by the fact that small home offices lead employees to spend hours staring at the same four walls, which can stifle productivity.
The solution?
Mobile office spaces. This home office idea for small spaces allows employees to roll their compact desk to the window and bask in the sunlight. It's like a mini-vacation for their mind.
With a soundproof portable home office, workers can set up anywhere around the house or take things outdoors for a change in scenery to boost creativity.
We recommend investing in a compact rolling desk or a foldable workspace with built-in storage for easy mobility.
7. The zen zone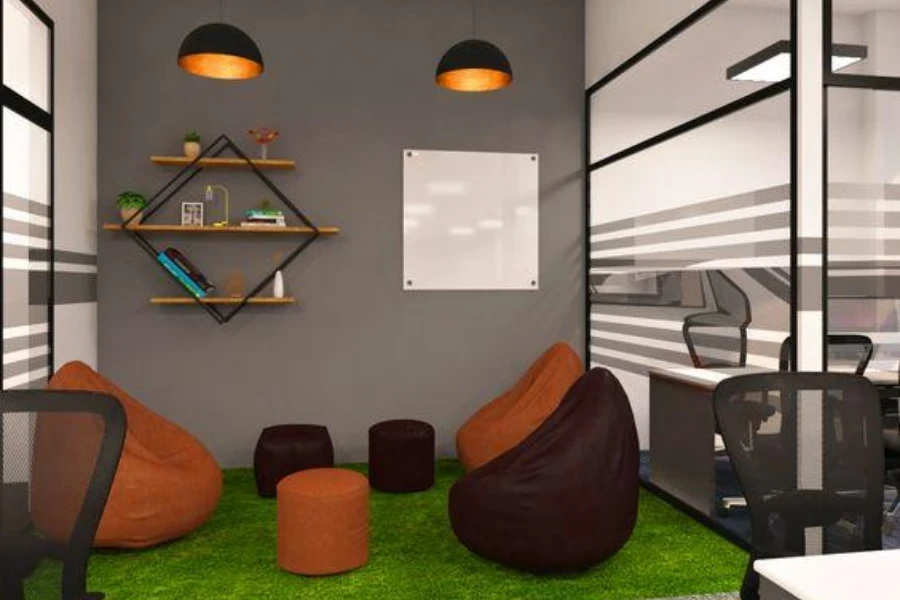 Running a business from a home office can mean working long hours, hence the need for a chill-out zone.
Life isn't all about work, it's about finding the right balance. And adding a cozy corner with a round Papasan chair, soft lighting, and a calming painting may be just what one needs. One can also add personal pictures, quotes, or small inspirational objects.
A few minutes of zen coupled with meditation, stretching, or deep breathing can supercharge one's batteries, especially when the day's stress is weighing one down.
Taking a breather in the zen corner, in this case, can be like a mini spa retreat.
The bottom line
Home office furniture is a growing market with many organizations investing in their employees, helping them to create comfortable spaces to work in at home. With the rise in these spaces becoming the norm globally, retailers can cater to this trend by supplying their buyers with the kinds of productivity-boosting items they demand. Check out Alibaba.com for unique furniture and lighting ideas for a home office makeover.
Was this article helpful?